You deserve nothing but the best. That's where Top Limo's airport car service comes in. As a trusted and reliable provider, we are committed to delivering unparalleled luxury and comfort for all your travel needs. Our experienced chauffeurs ensure a seamless experience from beginning to end, making every journey with us truly exceptional.
Whether you're traveling for business or pleasure, our top-notch airport limo service is designed to exceed your expectations. From special occasions to everyday travel, our professional chauffeurs will transport you in style and elegance. So sit back, relax, and let us take care of the details while you enjoy a stress-free ride. Experience the difference with Top Limo's airport car service.
Testimonials and Reviews: Showcasing Exceptional Experiences
Satisfied Customers Rave About the Exceptional Service Received
It's not just about getting from point A to point B. It's about the experience, the luxury, and the exceptional service that makes all the difference. Don't just take our word for it – let our satisfied customers do the talking!
Our clients have been raving about their experiences with our airport car service. They can't stop praising the level of professionalism and attention to detail they received. From private tours to special events, we go above and beyond to ensure an unforgettable experience for each and every customer.
Positive Reviews Highlight Punctuality and Professionalism of Drivers
One common theme in many of our reviews is how impressed customers are with our drivers' punctuality. We understand that time is precious, especially when catching a flight or attending an important event. Our drivers make it a priority to arrive on time, ensuring you never miss a beat.
Not only are our drivers prompt, but they also exude professionalism at every turn. They are well-dressed, and courteous, and go out of their way to make your journey as comfortable as possible. Whether you have questions about local attractions or need recommendations for restaurants in town, our drivers are there to assist you every step of the way.
Testimonials Showcase Attention to Detail and a Personalized Approach
What sets us apart from other car services is our unwavering commitment to providing a personalized experience for each customer. Our testimonials highlight how we pay attention to even the smallest details.
From remembering your preferred temperature settings in the vehicle to offering complimentary amenities like water bottles and phone chargers, we strive for excellence in every aspect of your journey.
We believe that everyone deserves VIP treatment when traveling with us. Our team goes above and beyond expectations because we genuinely care about making your trip memorable and stress-free.
So, why settle for an average car service when you can have an exceptional one? Book with us today and experience the difference firsthand!
Guide to Choosing the Best Airport Car Service in Atlanta
Factors to Consider
There are a few key factors you should consider. First and foremost is reliability. You want a company that will be on time, every time, so you don't have to worry about missing your flight or being left stranded at the airport. Another important factor is the range of services offered. Look for a company that provides not only airport transfers but also transportation for special occasions or corporate events.
Comparison of Pricing, Fleet Options, and Customer Reviews
To make an informed decision, it's essential to compare pricing, fleet options, and customer reviews among different airport car service providers. Take the time to research and gather quotes from multiple companies to ensure you're getting the best value for your money. Consider the size and condition of their fleet as well – do they offer a variety of vehicles suitable for your needs? Lastly, read customer reviews and testimonials online to get insights into their level of professionalism, punctuality, and overall customer satisfaction.
Tips for Finding a Reputable Company
Finding a reputable airport car service can seem overwhelming with so many options available. However, by following these tips, you'll be able to find a company that prioritizes safety and customer satisfaction:
Check if they are properly licensed and insured.

Look for companies with experienced drivers who have excellent driving records.

Ensure they have clear communication channels and provide 24/7 customer support.

Ask about their COVID-19 safety protocols if that's a concern for you.

Seek recommendations from friends or colleagues who have used airport car services in Atlanta before.
By considering these factors and following these tips when choosing an airport car service in Atlanta, you can ensure a stress-free travel experience with reliable transportation services.
Top-rated Limousine Services in Canada for Seamless Travel
If you're looking for an exceptional experience with a top limo airport car service in Toronto, you're in luck! The GTA is home to some of the best-rated limousine services like Top Limo which offer luxurious and convenient transportation solutions for various occasions.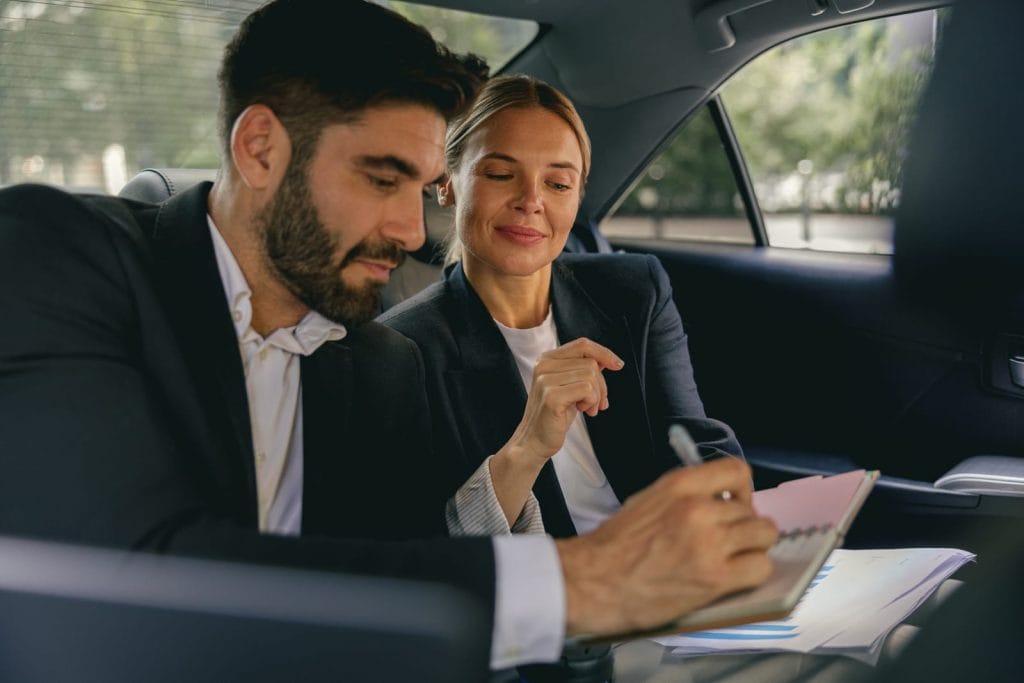 Read Also: Make Your Special Day Memorable with Our Limo Rental Toronto
Highlighting the Top-rated Limousine Services Available in Canada
With a plethora of options available, you can choose from a range of reputable companies that prioritize customer satisfaction and provide exceptional service. These services go above and beyond to ensure your travel experience is seamless and memorable.
Luxurious Fleet Options Catering to Various Travel Needs
Whether you're attending a corporate event, getting married, or celebrating a special occasion, these top-rated limousine services offer a diverse fleet of vehicles to cater to your specific needs. From sleek sedans and spacious SUVs to elegant stretch limos and party buses, there's something for everyone. You can travel in style and comfort while enjoying amenities like leather interiors, state-of-the-art entertainment systems, mini-bars, and more.
Convenient Transportation Solutions for Corporate Events, Weddings, or Special Occasions
Planning an important business meeting or conference? Need transportation for your wedding day? Or perhaps you're organizing a bachelorette party or prom night? These top-rated limo services specialize in providing convenient transportation solutions for all types of events. Their professional chauffeurs will ensure punctuality and take care of all your transportation needs so that you can focus on enjoying the occasion.
Elevating Your Travel Experience: Top Limo Transportation in Canada
Discovering Silver Star Transportation as a premier choice for travel in Canada
Looking for a top-notch transportation business to cater to your transportation needs in Toronto? Look no further than Top Limo! Whether you're visiting for city tours, sightseeing tours, or group tours, this exceptional limousine service has got you covered. With their fleet of luxury vehicles and professional chauffeurs, they'll ensure that your journey is not only comfortable but also unforgettable.
Luxury vehicles equipped with modern amenities for a comfortable journey
Top Limo knows how to deliver. Their fleet of luxury vehicles boasts the latest amenities, ensuring that every moment of your ride is filled with comfort and convenience. From plush leather seats and spacious interiors to state-of-the-art entertainment systems and climate control, these cars have it all. So sit back, relax, and enjoy the ride as you cruise through the bustling streets of Toronto City.
Superior customer service ensures a memorable experience
At Top Limo, customer satisfaction is their top priority. Their team of dedicated professionals goes above and beyond to provide superior customer service at every step of your journey. From assisting with luggage to offering personalized recommendations for city attractions and restaurants, they are committed to making your experience truly exceptional. Whether you're a first-time visitor or a frequent traveler to the city, their friendly staff will ensure that all your needs are met.
Unmatched Luxury and Comfort: Hallmark of Exceptional Limo Services
Luxury limo services offer unparalleled comfort during your travels
One thing is for sure – luxury and comfort are at the forefront. These top-notch limo services go above and beyond to provide an unforgettable experience for their passengers.
Imagine stepping into a sleek, stylish limousine with plush interiors that make you feel like a VIP. The comfortable leather seats embrace you as you sink in, providing the perfect setting for relaxation or celebration. With ample legroom and spacious cabins, these exceptional limousines ensure that you travel in utmost comfort.
Premium amenities including plush interiors, entertainment systems, and refreshments
What sets these luxury transportation services apart from the rest is their attention to detail. From state-of-the-art entertainment systems to fully stocked refreshment bars, these exceptional limos have it all.
Sit back and enjoy your favorite tunes on high-quality sound systems while sipping on chilled beverages from the minibar. Some premium limo services even offer complimentary Wi-Fi, allowing you to stay connected throughout your journey.
Customized experiences tailored to meet individual preferences
Exceptional limo services understand that every passenger is unique with different preferences and needs. That's why they strive to provide customized experiences that cater specifically to each individual.
Whether you're traveling for business or pleasure, these top limo companies will tailor the service according to your requirements. From selecting the perfect vehicle model to accommodating special requests, they ensure that your experience is personalized and memorable.
So why settle for the ordinary when you can indulge in the extraordinary? Treat yourself to an exceptional limousine service that offers unmatched luxury, comfort, premium amenities, and personalized experiences tailored just for you.
Reflecting on Exceptional Experiences with Airport Car Services
Congratulations! You've now explored the incredible world of top-rated airport car services and witnessed firsthand the exceptional experiences they offer. From reading testimonials and reviews that showcase these outstanding services to discovering the best limousine services in various locations, you're well-equipped to elevate your travel experience.
But don't just stop here! Take action and book an airport car service for your next trip. Imagine being greeted by a professional chauffeur, stepping into a luxurious vehicle that exudes comfort, and enjoying a seamless journey to your destination. With these exceptional services at your fingertips, why settle for anything less?
Remember, you deserve the best. So go ahead and choose an airport car service that aligns with your needs and preferences. Elevate your travel experience to new heights and create unforgettable memories along the way!
FAQs
Can I book an airport car service online?
Absolutely! Most reputable airport car services provide online booking options for convenience. Simply visit their website or download their app to make a reservation within minutes.
Are airport car services available 24/7?
Yes, many airport car services operate 24 hours a day, 7 days a week. Whether you have an early morning flight or a late-night arrival, you can count on their reliable transportation services.
How do I know if an airport car service is reliable?
Look for customer reviews and testimonials to gauge the reliability of an airport car service. Reputable companies will have professional chauffeurs who are punctual, knowledgeable about the area, and prioritize customer satisfaction.
What types of vehicles are available for airport car services?
Airport car services often offer a wide range of vehicles to cater to different needs and group sizes. You can typically choose from sedans, SUVs, vans, or even luxurious limousines depending on your preferences.
Can I request additional amenities during my airport car service?
Absolutely! Many airport car services offer customizable options to enhance your experience. Whether you need Wi-Fi, refreshments, or specific music preferences, don't hesitate to communicate your requests when making a reservation.