Picture this: you've just landed at the airport, exhausted from a long flight. All you want is a smooth and comfortable ride to your destination. But with so many options out there, how do you choose the right airport limousine service?
Safety and reliability are crucial when selecting a service that will transport you to your destination hassle-free. Pricing transparency is equally important to avoid any hidden fees or surprises. And of course, you want a company with a strong reputation and positive customer reviews. So buckle up and let's dive in!
Registration and Licenses: Ensuring Properly Trained Drivers
To ensure a smooth and safe journey, it's crucial to choose an airport limousine service that has proper registration and licenses. This ensures that the company operates legally and meets the necessary requirements. One of the key aspects to consider is the training and licensing of the drivers.
When booking an airport limousine service, verify that the drivers are well-trained, licensed, and experienced professionals. A reputable limo service will prioritize safety by conducting thorough background checks on their drivers. This gives you peace of mind knowing that you are in capable hands throughout your journey.
Read Also: Book GTA limousine Service to Explore The Area with TopLimo
Here are some points to keep in mind regarding driver qualifications:
Well-Trained Professionals
Make sure the drivers have undergone comprehensive training programs specific to chauffeur services. They should possess excellent driving skills, knowledge of traffic rules, and customer service etiquette.
Valid Licenses
Check if the drivers hold valid commercial driver's licenses (CDL). These licenses indicate that they have met all legal requirements for operating commercial vehicles.
Experience Matters
Consider choosing a limo service with experienced drivers who have a good track record in providing transportation services. Experienced drivers are more likely to handle various situations efficiently and ensure a comfortable ride for passengers.
Background Checks
Reputable limousine companies conduct thorough background checks on their drivers before hiring them. This includes verifying their driving records, criminal history, and drug tests. By doing so, they prioritize passenger safety.
Remember, when booking an airport limousine service, always prioritize safety by ensuring that the company has properly trained and licensed drivers. Conducting thorough research beforehand will help you make an informed decision about which service provider to choose for your travel needs.
Reliable Drivers: Tips for a Great Limousine Experience
One of the most important factors to consider is the reliability of the drivers. After all, they are the ones responsible for ensuring a smooth and enjoyable ride. Here are some tips on what to look for in reliable drivers:
Professionalism is Key
To have a great limousine experience, you need courteous chauffeurs who exude professionalism. They should be punctual, arriving on time to pick you up and drop you off at your destination. A well-groomed appearance is also essential; after all, no one wants to ride in a dirty or unkempt vehicle.
Knowledgeable Drivers
A knowledgeable driver can make a world of difference during your journey. Look for chauffeurs who are familiar with the area and can provide efficient routes to avoid traffic congestion. They should also be able to offer recommendations for local attractions or restaurants if you're looking to explore the city.
24/7 Customer Support
It's always reassuring to know that help is just a phone call away. When choosing an airport limousine service, opt for a company that offers 24/7 customer support. This ensures that any concerns or issues that may arise during your ride can be promptly addressed.
Benefits of Pre-Booking: Pearson Airport Limousine Convenience
There are several factors you should consider. One of the most important aspects is the convenience that pre-booking offers at Pearson Airport. Let's explore the benefits of pre-booking and why it can make your travel experience smoother and stress-free.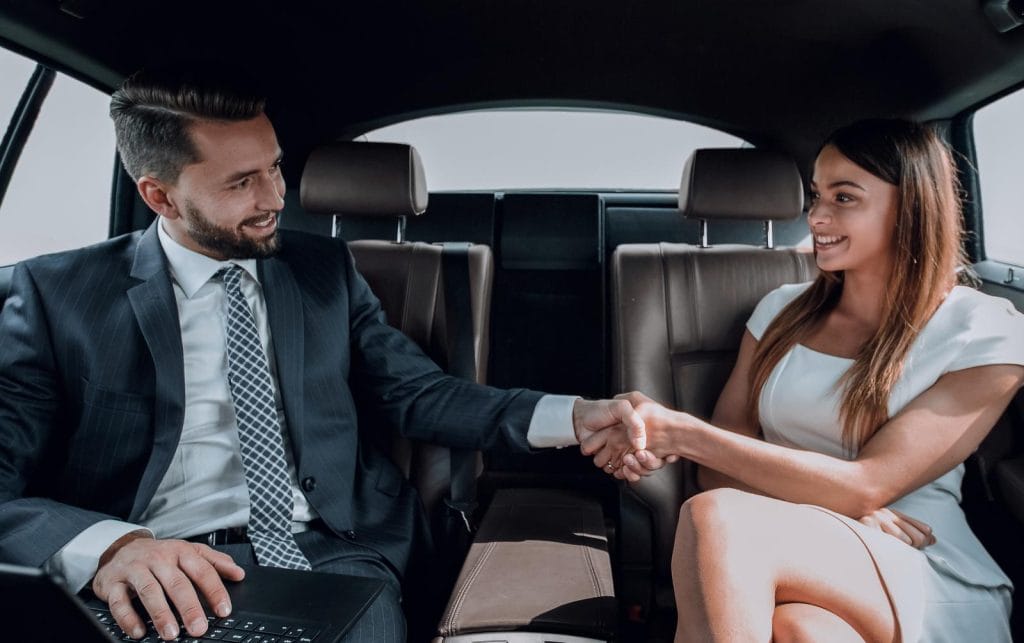 Peace of Mind with Availability
By pre-booking your airport limousine service with Top Limo in Canada, you can have peace of mind knowing that a luxurious ride will be waiting for you on your desired date and time. No more worrying about last-minute availability or scrambling to find transportation upon arrival. With a prearranged booking, you can rest assured that your chauffeur will be ready and waiting to whisk you away.
Read Also: Top Reasons to Choose a Limo to Toronto Airport with TopLimo
Avoid Long Waiting Times
One of the biggest advantages of pre-booking is avoiding long waiting times at the airport. Instead of standing in line for a taxi or searching for a ride-sharing service, your dedicated chauffeur will be there to greet you as soon as you step off the plane. This means less time spent waiting and more time enjoying your journey.
Convenient Planning Ahead
Pre-booked airport limousine services allow you to plan ahead and create a schedule that suits your needs. Whether you have an important meeting right after landing or need to reach your hotel quickly, having a prearranged pickup ensures that everything runs smoothly. You won't have to worry about rushing or adjusting your plans last minute – everything will be taken care of in advance.
Important Questions to Ask a Limo Service Provider
When booking an airport limousine service, it's crucial to ask the right questions to ensure you're getting the best experience possible. Here are some important questions to consider:
Fleet Size, Vehicle Options, and Amenities
Ask about the size of their fleet and the types of vehicles they offer. It's essential to know if they have a variety of options available that can accommodate your specific needs. Inquire about amenities like Wi-Fi, charging ports, and entertainment systems to make your journey more comfortable.
Cancellation Policy and Additional Charges
It's always wise to clarify their cancellation policy in case your plans change unexpectedly. Ask if there are any refund options available and whether there are any additional charges or surcharges that you should be aware of upfront.
Meet-and-Greet Services and Luggage Handling
If you want a seamless airport experience, find out if the limo service offers meet-and-greet services. This can save you time and hassle by having a professional chauffeur waiting for you at the airport. Inquire about their assistance with luggage handling so that you don't have to worry about lugging heavy bags around.
By asking these important questions before booking an airport limousine service, you can ensure that your travel arrangements align with your expectations. Remember, it's better to be well-informed beforehand than to encounter surprises later on.
Diverse Fleet and Vehicle Maintenance: Meeting Your Needs
A top-notch airport limousine service should offer a diverse fleet of vehicles that can accommodate various group sizes and preferences. Whether you're traveling alone or with a large group, having options ensures that you find the perfect vehicle for your needs.
When choosing an airport limousine service, it's crucial to prioritize safety and comfort. Make sure the company conducts regular maintenance checks on their vehicles to ensure they are in optimal condition. This way, you can have peace of mind knowing that you'll be riding in a reliable and well-maintained vehicle.
Consider the amenities provided by the limo service. Look for features like Wi-Fi connectivity, charging ports, and entertainment systems to enhance your travel experience. These amenities can make your journey more enjoyable and convenient, especially during long trips.
Here are some key points to keep in mind when evaluating a limo service:
Diverse fleet: Choose a company that offers a wide range of vehicle options such as sedans, SUVs, or even luxury vans to suit your style and preferences.

Regular maintenance: Ensure that the limo service prioritizes vehicle maintenance to provide safe and comfortable rides.

Amenities: Look for additional features like Wi-Fi connectivity, charging ports, or entertainment systems that can elevate your travel experience.
By considering these factors when selecting an airport limousine service, you can ensure that your transportation needs are met efficiently and comfortably. Remember to check customer reviews or testimonials to gauge the quality of their services before making your final decision.
Finding the Ideal Airport Limousine Service
By completing the sections before this conclusion, you've gained valuable insights into finding the ideal airport limousine service. You now know the importance of checking registration and licenses to ensure your safety and peace of mind. You've also learned about the significance of reliable drivers who can enhance your overall limousine experience. Pre-booking has been highlighted as a convenient way to make your travel plans smoother, specifically. We discussed important questions to ask a limo service provider and emphasized the significance of a diverse fleet and proper vehicle maintenance.
Now that you're equipped with this knowledge, it's time to put it into action! When booking an airport limousine service, remember to prioritize these factors: safety, reliability, convenience, and customer satisfaction. Take advantage of our top-notch limo services in Canada by booking with Top Limo today!
FAQs
How far in advance should I book an airport limousine?
It is recommended to book your airport limousine at least 24 hours in advance. This allows ample time for the service provider to arrange a well-maintained vehicle and assign a professional driver for your trip.
Can I request a specific type of vehicle for my airport transfer?
Yes! Most reputable airport limousine services offer a diverse fleet of vehicles to cater to different preferences and group sizes. Whether you need a luxury sedan or a spacious SUV, be sure to communicate your requirements during the booking process.
Are there any additional charges or fees I should be aware of?
While most reputable providers are transparent about their pricing structure, it's always wise to inquire about any potential additional charges upfront. This includes gratuity for the driver, tolls or parking fees during your journey, or any extra services you may require.
What happens if my flight is delayed?
Top limo services understand that flight delays are a common occurrence. They typically monitor your flight's status and adjust the pickup time accordingly, ensuring that your driver will be there to greet you when you arrive.
Are airport limousine services available 24/7?
Yes! The best airport limousine services operate round the clock to accommodate travelers' needs at any time of day or night. Whether you have an early morning departure or a late-night arrival, you can rely on their services for a comfortable and hassle-free journey.