Imagine this: you and your friends are all dressed up, ready to hit the town for a night of fun and excitement. But there's one thing missing – reliable transportation. That's where Pickering Airport Limo comes in. With their fleet of luxurious limos, they offer a reliable and professional transportation service specifically designed for night partygoers like you.
Pickering Airport Limo has got you covered. Their stylish and comfortable limos provide the perfect setting to kick off your evening in style. With experienced chauffeurs at the wheel, you can sit back, relax, and enjoy a seamless journey from start to finish.
Benefits of Pickering Airport Limo for Night Partygoers
Avoid the hassle of finding parking or dealing with traffic congestion
Finding parking can be a nightmare, especially when you're heading out for a night party. With Pickering Airport Limo, you don't have to worry about circling around the block searching for a spot. Our professional chauffeurs drop you off right at the entrance, saving you time and energy. Plus, you won't have to deal with the stress of navigating through heavy traffic. Sit back, relax, and let us handle the road while you enjoy your night out.
Enjoy a stress-free evening without worrying about designated drivers or DUIs
Having a designated driver is crucial. But why burden your friends or family members when you can hire a reliable airport limo service? With Pickering Airport Limo, we provide experienced and responsible drivers who will ensure that you reach your destination safely. Say goodbye to the worries of DUIs and focus on having a great time with your friends.
Arrive at your destination on time, every time, with our punctual services
Timing is everything. You don't want to be fashionably late or miss out on any exciting moments. With our airport limo service, punctuality is our top priority. Our drivers are familiar with the best routes and will make sure that you arrive at your destination on time – no more waiting around or rushing to catch up.
Experience the ultimate comfort and relaxation during your night out
Why settle for cramped cars or public transportation when you can travel in style? Pickering Airport Limo offers luxurious vehicles equipped with comfortable seating and amenities like climate control and entertainment systems. Step into our limo and indulge in a VIP experience as we transport you to your desired location smoothly and comfortably.
Arrive in Style: Making a Grand Entrance to Your Destination
Imagine this: You're all dressed up, ready for a night of fun and excitement. You step out of a sleek and stylish limousine, turning heads as you make your way to the entrance of the venue. Sounds pretty cool, right? Well, with Pickering Airport Limo, you can make that dream a reality.
Nothing beats traveling via a luxurious limousine. With Pickering Airport Limo, you can experience the thrill of feeling like a VIP from the moment you step off your flight. Their professional chauffeurs will be waiting for you at the airport, ready to whisk you away in one of their elegant vehicles.
One of the best things about choosing Pickering Airport Limo is that they offer red carpet treatment upon arrival. Yes, you read that right! You'll feel like a celebrity as you walk down the red carpet and into your waiting limousine. Talk about making a grand entrance!
But it's not just about the glitz and glamour. Pickering Airport Limo also provides top-notch service and reliability. Their fleet consists of well-maintained vehicles that are always clean and comfortable. Whether you're attending a wedding or heading out for a night on the town with friends, their fleet has something for everyone – from classy sedans to spacious vans.
And let's not forget about convenience! With Pickering Airport Limo, you can easily book your ride in advance with just a click of a button. No more worrying about finding transportation or dealing with traffic; they'll take care of everything so that you can focus on enjoying your special moment.
Features and Amenities: Elevating Your Night Party Experience
Enjoy State-of-the-Art Entertainment Systems Inside Our Limousines
Entertainment is key. At Pickering Airport Limo, we've got you covered with our state-of-the-art entertainment systems. Picture this: cruising down the streets in a luxurious limousine while grooving to your favorite tunes on a top-notch sound system. It's like having your personal nightclub on wheels! Whether you're into hip-hop, pop, or rock, our limousines are equipped with cutting-edge audio technology that will make every beat come alive.
Indulge in Complimentary Beverages While Traveling to Your Destination
No party is complete without some refreshing drinks, right? That's why we offer complimentary beverages onboard our limousines. Sip on chilled soft drinks or enjoy a glass of bubbly champagne as you travel to your destination in style. Our professional chauffeurs will ensure that your glasses are always topped up, so you can focus on having a great time with your friends without worrying about getting thirsty.
Stay Connected with Onboard Wi-Fi to Share Your Exciting Moments Instantly
In this digital age, staying connected is essential. That's why we provide onboard Wi-Fi in our limousines, allowing you and your squad to share all those exciting moments instantly. Snap selfies inside the limo and post them directly on social media for everyone to envy. Stream live videos of the dance floor action or chat with friends who couldn't make it to the party. With our reliable Wi-Fi connection, you'll never miss out on capturing and sharing those unforgettable memories.
Relax in Plush Leather Seats Designed for Maximum Comfort
Comfort should never be compromised. That's why we've decked out our vehicles with plush leather seats that are designed for maximum relaxation. Sink into the soft cushions, lean back, and let the comfortable seating take your party experience to the next level. Whether you're heading to a club, a concert, or any other nighttime event, our limousines provide a cozy and luxurious space for you to unwind and enjoy the ride.
Safety First: Ensuring a Secure and Enjoyable Journey
Safety should always be the top priority. At TopLimo, we understand the importance of providing a secure and enjoyable journey for our passengers.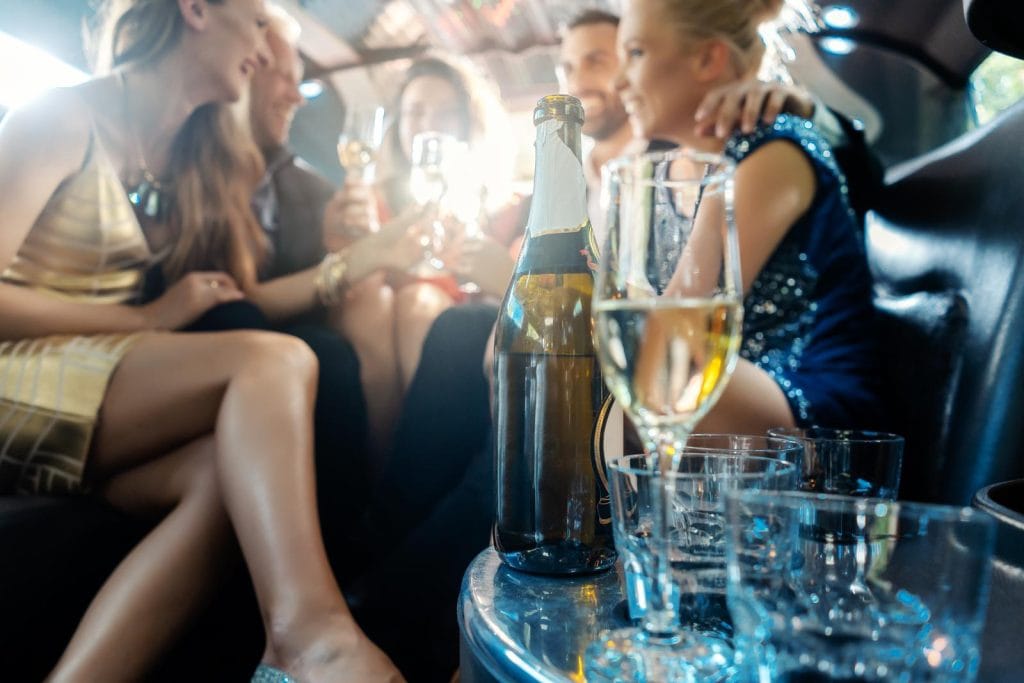 Here's why picking our airport limo service is the ideal choice:
Trained Chauffeurs: Skilled Drivers for Safe Travels
Our chauffeurs are not just drivers; they are highly trained professionals equipped with defensive driving skills. They undergo rigorous training to ensure they have the necessary expertise to handle any situation on the road. With their extensive knowledge and experience, you can trust that you're in safe hands.
Rigorously Maintained Vehicles: Optimal Safety at All Times
We take pride in maintaining our fleet of vehicles to the highest standards. Each vehicle undergoes regular inspections and maintenance checks to ensure optimal safety. From brakes to tires, we leave no stone unturned.
Emergency Assistance: Available 24/7
We understand that unforeseen situations can arise at any time during your journey. That's why we offer round-the-clock emergency assistance. Whether it's a flat tire or any other unexpected issue, our dedicated team is available 24/7 to provide immediate support and resolve any problems that may arise.
Cost-Effective Luxury: Affordable Transportation for Night Parties
If you're looking for a cost-effective way to travel in style during your night parties, Pickering Airport Limo is the ideal choice. They offer luxury transportation services at affordable rates, ensuring that you can enjoy a lavish experience without breaking the bank.
One of the key advantages of choosing Pickering Airport Limo is its transparent pricing policy. There are no hidden charges or unexpected fees, so you know exactly what you're paying for upfront. This transparency gives you peace of mind and allows you to plan your budget accordingly.
For those planning a night out with friends, group discounts are available. This makes Pickering Airport Limo an even more cost-effective option as the fare can be split among all partygoers. By taking advantage of these group discounts, everyone can enjoy the luxury and comfort of a limousine while saving money at the same time.
Pickering Airport Limo truly delivers. Their fleet of luxurious vehicles ensures that you arrive at your destination in style and comfort. From sleek sedans to spacious SUVs, they have a wide range of options to suit your needs and preferences.
Not only do they provide top-notch vehicles, but they also have professional chauffeurs who prioritize your convenience and safety throughout the journey. These experienced drivers ensure that you reach your destination on time while providing exceptional service along the way.
Choose Pickering Airport Limo for an Unforgettable Night Out
Planning a night party and want to make it truly unforgettable? Look no further than Pickering Airport Limo. With our exceptional service and luxurious vehicles, we guarantee a night out that will leave you and your friends with memories to cherish.
Arriving in style is essential for any night party, and with Pickering Airport Limo, you can make a grand entrance that sets the tone for the entire evening. Imagine stepping out of a sleek limousine, turning heads as you arrive at your destination. It's like being a VIP at your own exclusive event.
But it's not just about appearances. Our limos are equipped with top-notch features and amenities that elevate your night party experience. From state-of-the-art sound systems to mood lighting, our vehicles create the perfect ambiance for celebrating in style. And with our commitment to safety, you can relax and enjoy the journey knowing that you're in good hands.
Ready to take your night parties to the next level? Book Pickering Airport Limo today and let us make your next event an unforgettable one!
FAQs
How do I book a Pickering Airport Limo for my night party?
Booking a Pickering Airport Limo is quick and easy! Simply visit our website or give us a call to check availability and choose the vehicle that suits your needs. Our friendly customer service team will guide you through the booking process, ensuring everything is taken care of smoothly.
Can I customize the amenities in the limo?
Absolutely! We understand that every party has its unique requirements. You can discuss any specific requests or customizations with our customer service team when making your reservation. We'll do our best to accommodate your preferences and make sure your night party is exactly how you envision it.
Are there any restrictions on where I can go during my night party?
As long as it's within our service area, you can go wherever you like during your night party. Whether it's hitting the hottest clubs in town or exploring different venues, our professional chauffeurs will take you there safely and efficiently. Just let us know your itinerary, and we'll make sure to provide a seamless transportation experience.
How many people can fit in a Pickering Airport Limo?
Our fleet includes a variety of vehicles to accommodate different group sizes. From intimate gatherings to larger parties, we have limos that can comfortably seat anywhere from 6 to 20 passengers. When making your reservation, let us know the number of guests so we can recommend the perfect vehicle for your night party.
What if my night party runs late? Can I extend the rental time?
We understand that plans can change and parties sometimes run longer than expected. If you need to extend the rental time for your Pickering Airport Limo, simply get in touch with our customer service team as soon as possible. We'll do our best to accommodate your request based on availability and ensure that you have reliable transportation throughout your entire night out.