Best Parks and Gardens in Hamilton to Visit on Our Hamilton Limousine Service – Top Limo
The Canadian city of Hamilton, in the province of Ontario, is known for its beautiful parks and lots of green space. There are many fields, public parks, children's parks, and sports parks in Hamilton where you can hang out and relax. Hamilton's parks and gardens are one of the things that make the city stand out.
These are all over its length and width and offer a quiet place to get away from the busy city life. Hamilton is also known for its great limo service, which is a great way to see the city's parks and gardens with style and ease. In this blog post, we'll talk about some of the best parks and gardens to visit with a limo service in Hamilton.
Best Hamilton Parks and Gardens To Visit in Hamilton:
Royal Botanical Gardens: An Oasis of Nature and Serenity
Nestled between Hamilton and Burlington, the Royal Botanical Gardens (RBG) is a sprawling sanctuary of botanical beauty. Covering over 2,700 acres, RBG is the largest botanical garden in Canada and one of the largest in the world. It boasts an extensive network of trails, an array of diverse plant species, beautiful ornamental gardens, and remarkable conservation areas.
The Royal Botanical Gardens has a fascinating history that dates back to the 1920s when the City of Hamilton began acquiring land for park development. By 1930, the area was recognized for its significant natural heritage and was designated as a national historic site. The RBG was formally established in 1941 with a mission to connect people, plants, and places for the purpose of nurturing and preserving healthy growing life on our planet.
RBG is home to five distinct garden areas, each showcasing a different aspect of botanical beauty. These include the rock garden, the arboretum, the Mediterranean garden, and more. The gardens host over 40,000 plants, including the world's largest lilac collection. The RBG is not just about flora; it's also a haven for fauna, being part of a globally significant Important Bird Area.
The Royal Botanical Gardens is a must-visit for anyone traveling to Hamilton. The sheer size and diversity of the gardens provide something for everyone. It's a paradise for plant enthusiasts, with its stunning collections of roses, lilacs, irises, and other plants. Nature lovers can enjoy hiking along the trails, bird watching, or exploring the wetlands.
Visitors can explore the gardens on foot or take a guided tour, and booking a Hamilton private car service is an excellent way to arrive in style.
Dundurn Castle Park: An Enchanting Journey into History and Nature
Dundurn Castle Park, located in the heart of Hamilton, is a spectacular 40-acre estate that transports you back in time. The park is graced with an imposing castle, meticulously-groomed gardens, and a heritage kitchen garden. The estate's impressive landscapes offer a delightful blend of nature, history, and architecture.
Built-in the 1830s by Sir Allan Napier MacNab, one of Canada's early premiers, Dundurn Castle Park is steeped in history. The name "Dundurn" translates to "fort on the water," a nod to the property's strategic location overlooking Burlington Bay. The castle itself has been faithfully restored to reflect the Regency period, giving visitors a glimpse into the opulence of 19th-century Canada.
Dundurn Castle Park's unique allure lies in its rich blend of history and natural beauty. The castle, boasting 72 rooms, is a feast for the eyes with its Italianate-style architecture. The heritage kitchen garden is another unique feature, recreating Victorian horticulture practices and producing fruits and vegetables used in historic cooking demonstrations.
A visit to Dundurn Castle Park offers more than just a stroll through a beautiful estate. It's an immersive experience that combines history, culture, and nature. The castle is not just an architectural marvel but a living museum, with costumed staff offering insights into 19th-century life. The gardens, in their serene beauty, provide a peaceful retreat.
Bayfront Park in Hamilton
Bayfront Park, another waterfront gem, is a sanctuary for outdoor lovers. This 40-acre park, developed in the 1990s, is a testament to successful industrial land reclamation. Today, it's a green haven, with winding trails, serene picnic spots, and a beautiful marina. The park is a popular spot for various activities like cycling, rollerblading, and bird-watching. The stunning views of Hamilton Harbour and the tranquil ambience make Bayfront Park a natural retreat within the city, providing a refreshing contrast to the urban landscape.
Bayfront Park is a popular spot for picnics, and visitors can also enjoy fishing, biking, and hiking. The park also hosts various events throughout the year, including concerts and festivals. Enjoy the scenery by strolling on the park's 2.3-kilometre loop trail that circles the property's perimeter.
Gage Park: A Vibrant Heartbeat of Hamilton
Dating back to 1922, Gage Park was designed by the renowned landscape architectural firm H.B & L.A. Dunington-Grubb, the same firm that contributed to the design of the Royal Botanical Gardens. Over the decades, the park has evolved, maintaining its historical charm while adapting to the city's growing needs. Today, it stands as a beloved destination for locals and tourists alike.
Gage Park, one of Hamilton's most iconic landmarks, is a stunning urban park located in the heart of the city. Covering 71 acres, the park offers an inviting green space perfect for relaxation, recreation, and community events. Its features include a beautiful fountain, a tropical greenhouse, grand trees, and extensive walking paths.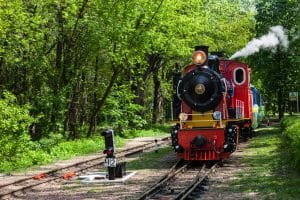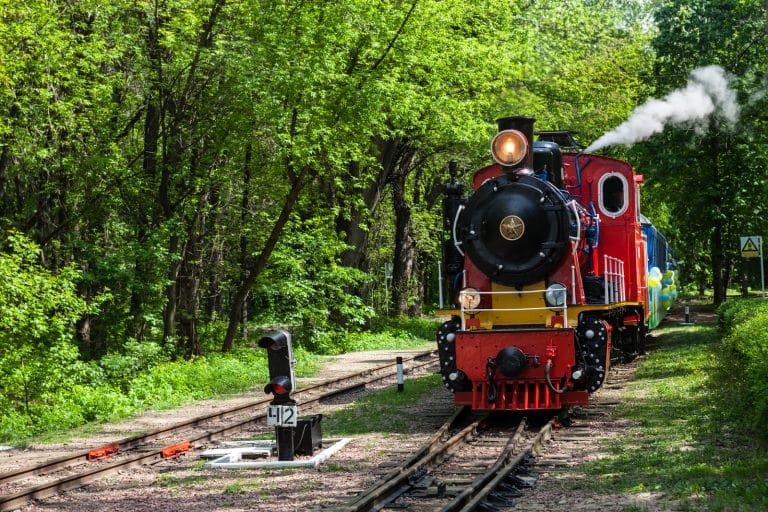 Gage Park has several unique features that make it stand out. The park's tropical greenhouse, known as the Gage Park Tropical Greenhouse, is a highlight, housing an array of exotic plants and offering a warm retreat during the colder months. The park is also home to the magnificent Gage Park Fountain, an ornate piece of architecture that provides a stunning backdrop for photographs.
Gage Park is an urban oasis that offers a unique blend of natural beauty, history, and community spirit. Whether you're taking a leisurely stroll, attending a vibrant festival, or exploring the tropical greenhouse, there's always something to enjoy in this park.
Pier 4 Park: Waterfront Serenity in the Heart of the City
Pier 4 Park, situated on Hamilton's waterfront, is a charming urban park that provides a peaceful retreat with spectacular views of Hamilton Harbour and Burlington Bay. Known for its picturesque setting, Pier 4 Park features a waterfront trail, a whimsical tugboat play structure, an abundance of seating areas, and a beautiful baywalk.
Once part of Hamilton's bustling industrial port, the land was transformed into Pier 4 Park in the 1990s as part of the city's waterfront redevelopment efforts. This transformation was aimed at bringing people back to the waterfront, which had long been dominated by industry. Today, it stands as a testament to Hamilton's commitment to rejuvenating its waterfront and creating public spaces that can be enjoyed by everyone.
Pier 4 Park is best known for its distinctive tugboat play structure, a nod to the area's maritime history that delights children and adults alike. The park also offers an impressive baywalk that allows visitors to walk along the water's edge, soaking in the serene atmosphere and scenic views.
Another unique feature is the "Wave Decks," a series of undulating boardwalks that mimic the waves of the bay, providing a fun and unique walking experience. The park also hosts "Music in the Park" during the summer months, a series of free outdoor concerts that celebrate local talent.
Pier 4 Park provides a tranquil waterfront experience right in the heart of the city. It's the perfect place to relax, unwind, and enjoy nature's beauty. Whether you're taking a leisurely stroll along the baywalk, playing on the tugboat structure, or enjoying a summer concert, the park offers a variety of experiences that can be tailored to your interests.
All you need, just to book your limo service to Hamilton and reach there to enjoy the scenic view and activities.
Hamilton Waterfront Trail
The Hamilton Waterfront Trail is a beautiful trail that runs along the city's waterfront. The trail covers a distance of 7 kilometres and offers stunning views of Hamilton Harbour. The trail is a popular spot for hiking, biking, and jogging and is a great way to explore the city's waterfront. Moreover, Hiring a limo service in Hamilton is an excellent way to arrive at the trailhead and explore the area.
Smokey Hollow Waterfall
One more waterfall on the Niagara Escarpment is the Smokey Hollow Waterfall. You can take the Waterdown path near Burlington and walk the 10.3-kilometre path while looking at birds and nature until you reach this beautiful waterfall. Or, you can just type "limo service near me" into Google and book a ride in a limo. Then, you can sit back and relax until you get to your location. Plan to go early in the morning or on a workday, when there aren't as many people, and don't park on the road if the parking lots are full.
| 7 Benefits Of Hiring Hamilton Airport Limo Service
Why Top Limo, the Premier Limo Service Provider in Hamilton, is the Best Choice for Visiting Hamilton's Parks and Gardens
Deciding how you travel can significantly influence your overall experience. From wine tours to special events, your choice of transportation matters. This is where Top Limo, a highly reputable Hamilton limo rentals company, steps in, offering a service that brilliantly combines comfort, luxury, and convenience. But what makes Top Limo Hamilton the best choice for visiting Hamilton's parks and gardens? Let's find out.
Unparalleled Comfort and Luxury in Every Limo Ride
Top Limo's fleet of limousines and sedans stands as a testament to luxury. As a leading limo bus company, we ensure our vehicles are well-maintained, offering you a plush interior, spacious seating, and top-tier amenities. From the moment you step into a Top Limo vehicle, you are enveloped in an environment designed for relaxation and enjoyment. It's not just about getting to your destination; it's about the journey itself. Whether it's a wine tour or a day of exploring parks, Top Limo ensures it's a luxurious one.
Convenience and Stress-Free Experience with Hamilton Limo Rentals
With Top Limo, convenience is a guarantee. You no longer have to worry about navigating through traffic or finding parking spaces. As your chosen limo service in Hamilton, we handle all of this, allowing you to focus solely on enjoying the natural beauty of Hamilton's parks and gardens. With a chauffeured tour, the stress typically associated with travel melts away, replaced by a smooth, hassle-free experience.

Knowledgeable and Professional Chauffeurs for Your Luxury Transportation Needs
Top Limo's chauffeurs aren't just drivers; they're professionals who know the Hamilton area inside out. They can provide insightful commentary about the parks and gardens you visit, making your journey not just enjoyable, but also educational. Their friendly yet respectful demeanor ensures you're treated with excellent service that ensures a memorable experience throughout your tour.
Customizable Service: More than Just an Airport Shuttle
One of the standout features of our limousine service in Hamilton is its flexibility. Whether you need an airport shuttle or plan to spend an extra hour at the Royal Botanical Gardens, Top Limo caters to your needs. Our service allows you to customize your tour, giving you the freedom to explore Hamilton's green spaces at your own pace.
As an affordable limo service provider, Top Limo offers more than just an airport transportation service. We provide a complete luxury transportation solution tailored to your specific needs. So the next time you're planning to explore Hamilton's parks and gardens, remember that a luxury limo ride with Hamilton Limos is the best way to do it.
How to Book Hamilton Limousine Service with Top Limo Service
Booking a tour with Top Limo is as seamless as the service you'll experience once you're onboard. Here's a step-by-step guide to securing your luxurious journey around Hamilton's parks and gardens.
Step 1: Visit the Top Limo Website
Begin by heading to Top Limo's official website. It's the central hub for all services and information you'll need about your limo tour. The user-friendly interface makes navigation a breeze.
Step 2: Select the 'Book a Tour Option
Look for the "Get Estimates" option on the homepage. This will lead you to a form where you'll be able to provide details about your planned tour.
Step 3: Fill in the Details
The form will ask for necessary information such as your preferred date and time for the tour, the number of passengers, and any specific parks or gardens you wish to visit. This is where you can start tailoring your journey to suit your preferences.
Step 4: Choose Your Preferred Limo
Top Limo offers a range of limousines to suit different group sizes and preferences. Whether you're looking for an intimate tour or a larger group outing, there's a limo to meet your needs. Review the options and select the one that suits you best.
Step 5: Review and Confirm
Before you confirm your booking, review all the details. Make sure the date, time, and chosen limo are all correct. This is also a good time to check the cancellation policy and any other terms of service.
Step 6: Make Your Booking
Once you're happy with everything, proceed to the checkout. You'll receive a confirmation email once your booking is complete, along with any necessary details about your upcoming tour.
Tips and Suggestions For Booking Hamilton Limo Service in Ontario
Book well in advance, especially during peak tourist season. This ensures you get your preferred date, time, and limo choice.
If you have any special requests or inquiries, don't hesitate to contact Top Limo's customer service. They're there to assist you and make your tour as enjoyable as possible.
Remember to provide a contact number where you can be reached while in Hamilton. This allows Top Limo to provide updates or contact you if needed.
Booking with Top Limo is simple and straightforward, mirroring the ease and luxury you'll experience on your tour. Just a few clicks and you'll be on your way to exploring Hamilton's parks and gardens in ultimate style and comfort.
Book Chauffeur Driven Limo Rentals Around Hamilton – Call Us to Book Your Limo Service in Hamilton
The parks and gardens in Hamilton are teeming with natural beauty, offering a serene retreat from the city's bustle. Choosing a service along the lines of a limousine rental, like Top Limo, elevates your journey through these green spaces into an experience of style and comfort. From the Royal Botanical Gardens to various waterfront trails, Hamilton boasts an array of parks and gardens that make it a haven for nature lovers.
If you're planning a trip to Hamilton, these beautiful parks and gardens should definitely make your list. And for the perfect experience, book a party limo service or even an SUV limo service in Hamilton to add that special touch to your trip.
Top Limo, an unmatchable corporate transportation provider, is renowned for its exceptional limousine services in Hamilton. Offering not just the best customer service, but also a range of services like Hamilton Private Car Service, Hamilton Proms Limo Service, and Hamilton Wedding Limo Service. Our professionally trained staff and fleet of luxury vehicles, including stretch limos and SUVs, are ready to accommodate all your needs, and get you where you need to go – be it a tranquil garden, an airport in Hamilton, or a night out on the town.
We pride ourselves on providing these services at affordable prices, ensuring our customers keep coming back, making us their first preference for all their transportation needs. For more information on our limousine services, please contact us right away. We look forward to making your Hamilton journey a memorable one.
Read More: