Discover the vibrant nightlife scene of Toronto like never before with our stylish limo service Toronto by TopLimo. Elevate your night out in the city by stepping into one of our luxurious limousines, designed to make your evening unforgettable. Experience the best of Toronto's nightlife in style as you cruise through the city streets, arriving at your destinations with elegance and sophistication. Trust our reputable limo service in Toronto to enhance your Toronto nightlife experience, ensuring comfort, convenience, and a touch of glamour every step of the way.
Convenience and Comfort: Travel in Style with a Luxury Limo Service Toronto
Enjoy hassle-free travel to your favorite nightlife destinations
Convenience is key. With our stylish limo service, you can say goodbye to the stress of finding parking or dealing with public transportation. We take care of all your travel needs so that you can focus on having a great time.
No more circling around for hours searching for a parking spot.

Avoid the hassle of navigating through crowded streets and figuring out the best routes.
Experience ultimate comfort while being chauffeured around the city
Our luxury limousines offer more than just a ride. They provide an elevated level of comfort and sophistication, ensuring that your journey is as enjoyable as the destination itself.
Sink into plush leather seats and relax in style.

Take advantage of amenities like climate control, entertainment systems, and complimentary beverages.
Say goodbye to parking and transportation woes
One of the biggest advantages of choosing our limousine service in Toronto is the convenience it offers. Our professional chauffeurs handle all aspects of transportation, allowing you to focus on enjoying your night out.
Arrive at your destination feeling refreshed and ready to party.

No need to worry about designated drivers or relying on rideshare apps.
Travel like a VIP and arrive in style
Nothing beats arriving at a nightclub or event in a luxury limousine. Our vehicles exude elegance and sophistication, instantly elevating your status from ordinary partygoer to VIP guest.
Make heads turn as you step out of a sleek and stylish limousine.

Impress your friends with your choice of transportation for any special occasion.
Hassle-Free Nights Out: Say Goodbye to Parking and Transportation Woes
Are you tired of the stress and frustration that comes with finding parking spots or dealing with public transportation when planning a night out in Toronto? Well, worry no more! With our stylish limo service, we've got your back, ensuring a hassle-free experience from start to finish.
No more wasting time circling around the neighborhood searching for elusive parking spots. Forget about the headache of navigating through heavy traffic or relying on crowded buses or trains. Our reliable drivers will take care of all your transportation needs, so you can focus solely on enjoying your night out in style.
Here's why choosing our Toronto limo service is the way to go:
Eliminate Parking Hassles
Say goodbye to the endless struggle of finding parking spaces in busy areas. With our limo service, you won't have to worry about driving around aimlessly or settling for expensive parking rates. Our experienced drivers know the city inside out and will ensure you're dropped off right at your destination without any hassle.
Stress-Free Travel
Forget about coordinating multiple cars or waiting for unreliable taxis. We provide a seamless and stress-free travel experience. Whether you're going out with friends or planning a special date night, our spacious and luxurious limousines can accommodate everyone comfortably, making sure everyone arrives together and on time.
Enjoy Your Night Out
Transportation should be the least of your worries. Let us handle all the logistics while you focus on having a great time. Our professional drivers will pick you up from your desired location and safely transport you back home at the end of the evening, ensuring a worry-free experience from start to finish.
So why deal with the hassles of parking and public transportation when you can enjoy a stress-free night out with our stylish limo service? Leave all your worries behind and let us take care of getting you to your destination in comfort and style.
Unforgettable Experiences: Elevate Your Nightlife Adventure with a Stylish Limo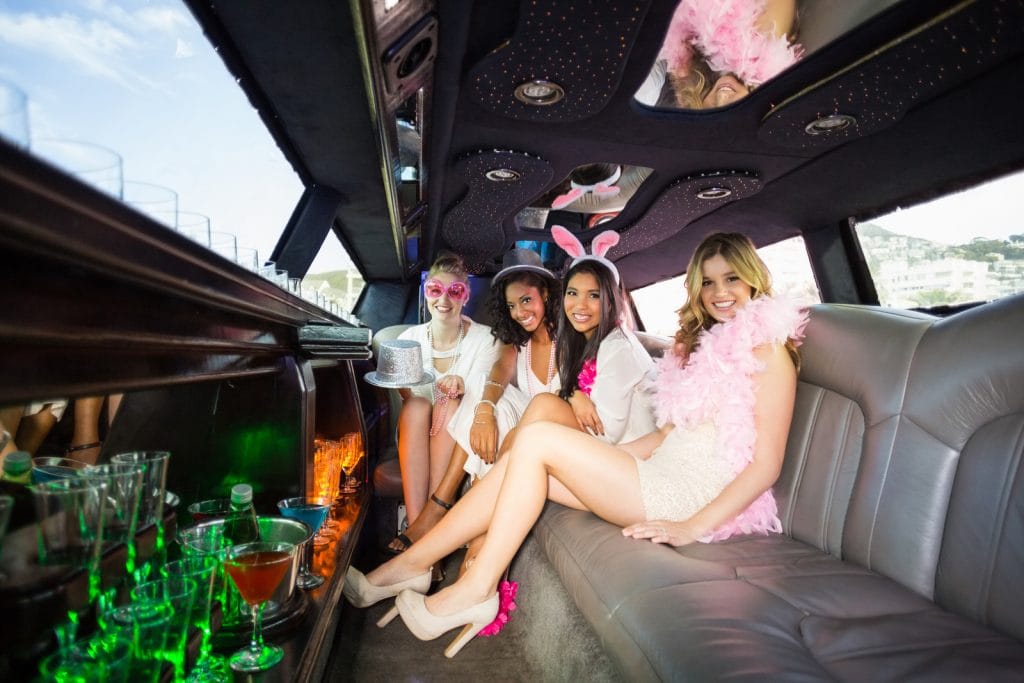 Create Lasting Memories
Make your nights out in Toronto truly unforgettable by adding an element of luxury and sophistication to your nightlife adventure. With our stylish limo service, you can elevate every moment and create lasting memories that will stay with you for years to come.
Arrive in Style
Enhance your overall experience by arriving at each venue in a stylish and elegant limousine. Our fleet of stunning limos is designed to make a statement and stand out from the crowd. As you step out of our luxurious vehicles, all eyes will be on you, making you feel like a VIP.
Indulge in Opulence
Why settle for ordinary when you can indulge in the opulence of our stylish limousines? From plush leather seats to state-of-the-art entertainment systems, our limos are equipped with everything you need to party in style. Sit back, relax, and enjoy the ride as we take care of all the details, allowing you to focus on having a great time.
Exceed Expectations
Our goal is not just to meet but exceed your expectations. We understand that your night out is special and we want to make it extraordinary. Our professional chauffeurs are experienced and knowledgeable about the best hotspots in Toronto's nightlife scene. They will ensure that you arrive at each destination safely and on time while providing exceptional service along the way.
Discover Toronto's Vibrant Nightlife Scene: Bars, Clubs, and Entertainment Galore
Toronto is a city that truly comes alive after dark. If you're looking for an unforgettable night out, you'll find no shortage of options in this vibrant metropolis. From trendy cocktail lounges to energetic nightclubs, Toronto's nightlife scene has something for everyone.
Immerse Yourself in Toronto's Vibrant Nightlife Scene
Toronto has it all. The city boasts a diverse range of bars and clubs that cater to every taste and preference. Whether you're into live music, dancing the night away, or simply enjoying a few drinks with friends, there are plenty of venues to choose from.
Explore the Diverse Range of Entertainment Options
In addition to its bustling bar and club scene, Toronto offers a wide variety of entertainment options after dark. You can catch a show at one of the city's many theaters or comedy clubs, where talented performers will have you laughing or on the edge of your seat all night long.
If you're feeling lucky, why not try your hand at one of Toronto's casinos? These lively establishments offer everything from slot machines to table games, ensuring you'll have an exciting evening filled with thrills and anticipation.
Let Us Take You on an Unforgettable Journey
To make the most of your night out in Toronto, consider booking a stylish Toronto airport limo service. Not only will this add a touch of luxury and glamour to your experience but it also ensures hassle-free transportation throughout the city. With a professional chauffeur behind the wheel, you can relax and enjoy yourself without worrying about parking or navigating unfamiliar streets.
So whether you're visiting Toronto for the first time or are a seasoned local looking for new adventures, don't miss out on experiencing the city's vibrant nightlife scene. From top-rated restaurants and bars to thrilling clubs and entertainment venues galore – there's always something happening in Toronto after dark.
A Hub for Music, Arts, and Culture: Immerse Yourself in Toronto's Cultural Offerings
Toronto is not just a city known for its vibrant nightlife and entertainment scene; it is also a hub for music, arts, and culture. When you step out into the town at night, you'll find yourself immersed in a world of artistic expressions that will leave you awe-inspired.
Experience Toronto's Thriving Music Scene
Music lovers rejoice! Toronto boasts an impressive array of music venues and concert halls where you can catch live performances by both local and international artists. Whether you're into rock, hip-hop, jazz, or indie music, this city has got it all. From intimate clubs to large-scale arenas, there's something here to cater to every musical taste.
Explore the Rich Diversity of Artistic Expressions
Toronto's cultural scene goes beyond just music. The city is home to numerous art galleries that showcase works from both established and emerging artists. Take a stroll through these galleries and immerse yourself in the beauty of paintings, sculptures, photography, and more. You'll be amazed at the variety of artistic styles and themes that are on display.
Discover Theaters That Bring Stories to Life
If you're a fan of theater productions, Toronto won't disappoint. The city is renowned for its world-class theaters that host captivating plays and performances throughout the year. From Broadway shows to experimental theater productions, there's always something happening on stage that will captivate your imagination.
Let Our Limousines Be Your Gateway
To truly experience the cultural heartbeat of Toronto after hours, why not indulge in our stylish limo service? Our luxurious vehicles will take you from one cultural hotspot to another with ease and comfort. Sit back, relax, and let our professional chauffeurs navigate the bustling streets as you soak in the vibrant energy of the city.
Toronto truly is a destination where music meets art meets culture. So, when you're planning your night out in this lively city, make sure to include a visit to its music venues, art galleries, and theaters. Immerse yourself in the cultural offerings that Toronto has to offer and create memories that will last a lifetime.
Reliability and Professionalism: Trust in a Reputable Limo Service Provider
Professional Chauffeurs Ensuring Safety and Comfort
Rely on our professional chauffeurs who prioritize your safety and comfort throughout your journey. Our experienced drivers are trained to provide exceptional service, ensuring that you have a smooth and enjoyable experience. Whether you're heading to a vibrant nightclub or exploring the city's nightlife scene, our chauffeurs will navigate the bustling streets of Toronto with expertise.
Years of Experience Delivering Exceptional Service
Trust our reputable limo service provider with years of experience in delivering exceptional service. We have served countless clients, catering to their transportation needs for various occasions. Our extensive knowledge of Toronto's nightlife allows us to recommend popular venues and ensure that you have an unforgettable night out. With our experience, we understand the importance of punctuality and strive to exceed your expectations every time.
Reliable Transportation Services Every Time
Rest assured knowing that we are committed to providing reliable transportation services every time. We value your time and understand the significance of prompt arrivals and departures. Our fleet of stylish limousines is meticulously maintained, ensuring that they are always in top-notch condition for your convenience. When you choose our limo services, you can count on us to be there when you need us, eliminating any worries about finding parking or navigating unfamiliar areas.
Attention to Detail and Commitment to Professionalism
Our attention to detail and commitment to professionalism sets us apart as a trusted limo service provider. From the moment you step into one of our luxurious vehicles, you'll notice the immaculate interior design and thoughtful amenities designed for your comfort. We take pride in delivering personalized experiences tailored to your preferences, whether it's providing chilled beverages or playing your favorite music during the ride.
Make Your Toronto Nightlife Experience Truly Memorable
Now that you know the convenience, comfort, and unforgettable experiences that come with hiring a stylish limo service in Toronto, it's time to elevate your nightlife adventure. Imagine stepping out of a luxurious limousine, turning heads as you arrive at the hottest clubs and bars in town. With hassle-free transportation and no parking worries, you can fully immerse yourself in Toronto's vibrant nightlife scene without any distractions.
But it's not just about the destination; it's about the journey too. Traveling in a stylish limo adds an extra touch of glamour and sophistication to your night out. It's like being a VIP celebrity, enjoying the red carpet treatment wherever you go. So why settle for the ordinary when you can make your Toronto nightlife experience truly extraordinary?
Book your stylish limo service Toronto today and get ready for an unforgettable night on the town. Whether you're celebrating a special occasion or simply want to have a memorable night out with friends, traveling in style will take your experience to new heights. Don't miss out on this opportunity to create lasting memories and indulge in the best that Toronto has to offer.
FAQs
Can I choose the type of limousine for my night out?
Absolutely! When booking a stylish limo service in Toronto, you'll have various options to choose from based on your preferences and group size. From sleek sedans to spacious SUVs or even stretch limousines, there's a vehicle that will suit your needs perfectly.
How do I book a stylish limo service?
Booking is simple! Just visit our website or give us a call to discuss your requirements. Our friendly team will guide you through the process and help you select the right vehicle for your night out. We'll handle all the details so that you can focus on having an amazing time.
Can I customize my itinerary?
Of course! We understand that everyone's night out is unique, and we're here to accommodate your specific requests. Whether you want to visit particular bars, clubs, or attractions, our experienced chauffeurs will ensure that your itinerary is tailored to your preferences.
Are the limousines well-maintained and safe?
Absolutely. Your safety is our top priority, which is why all our limousines undergo regular maintenance and inspections. Our professional chauffeurs are trained to prioritize safety and provide a smooth and secure ride throughout your night out.
What if my plans change or I need to cancel?
We understand that plans can change unexpectedly. If you need to modify or cancel your booking, simply reach out to our customer service team as soon as possible. We'll do our best to accommodate any changes or provide assistance according to our cancellation policy.