Imagine this: you're planning a special event, whether it's a corporate gathering, a group celebration, or any other memorable occasion. You want to make sure that every detail is perfect and that your guests have an unforgettable experience. One crucial decision that can elevate your event to the next level is choosing the best party limo bus. It's not just about transportation; it's about creating an atmosphere of luxury, comfort, and excitement. But with so many options out there, how do you make the right choice?
We'll explore the importance of background checks on limo companies and delve into the key features that can enhance your guests' experience. By the end of this guide, you'll be equipped with all the knowledge you need to ensure that your event stands out from the rest. So let's get started!
Factors to Consider When Choosing a Party Limo Bus
Cost Considerations for Renting a Party Bus
Renting a party bus can be an exciting and memorable experience for your event, but it's important to consider the cost before making a decision. Different companies may have varying rates, so it's essential to do some research and compare prices. Keep in mind that the cost of renting a party bus will depend on factors such as the size of the bus, duration of rental, and any additional services or amenities included. Be sure to inquire about any hidden fees or extra charges that may apply.
Pros:
Comparing prices helps you find the best deal.

Understanding the cost upfront allows you to budget accordingly.
Cons:
Cheaper options may lack certain amenities or features.

The most affordable option might not always provide the best quality service.
Availability and Booking Options for Different Companies
When choosing a party bus, availability is another crucial factor to consider. Popular dates and times tend to book up quickly, so it's recommended to start your search early. Reach out to different companies and inquire about their availability for your desired date and time. Consider their booking options—some companies may require a deposit or full payment upfront, while others offer flexible payment plans.
Pros:
Booking in advance ensures you secure your preferred date and time.

Flexible payment options make it easier to manage your finances.
Cons:
Limited availability may require adjusting your event schedule.

Strict booking policies could limit flexibility if plans change.
Amenities and Features Offered by Various Party Buses
The amenities and features offered by different party buses can greatly enhance your experience. Consider what specific amenities are important to you and your guests. Some popular features include comfortable seating, entertainment systems (such as sound systems or televisions), mood lighting, bar areas, and even dance floors. Take note of which companies offer these amenities when comparing your options.
Pros:
Having a variety of amenities ensures you find the perfect fit for your event.

Exciting features can add an extra level of fun and enjoyment.
Cons:
More amenities may come at a higher cost.

Limited availability of specific features might require compromise.
Read Also: Create Lasting Experiences with Our Toronto Party Bus Service
Determine the Size and Capacity Needed
To choose the best party limo bus for your event, you need to determine the size and capacity that will meet your needs. Here are some key points to consider:
Assessing the number of guests attending your event
First things first, you need to have a good sense of how many people will be joining your party. Are you planning a small gathering or a big blowout? Knowing the approximate number of guests will help you narrow down your options.
Understanding the seating capacity of different party buses
Party buses come in various sizes and configurations, each with its own seating capacity. Some can accommodate 15-20 passengers, while others can hold up to 40 or more. Take into account not only the number of guests but also their comfort during the ride.
Ensuring there is enough space for everyone to comfortably enjoy the ride
Nobody wants to feel cramped or squished during a party bus experience. Make sure there is enough room for everyone to move around, dance, and have a great time. Consider factors like legroom, standing space, and amenities provided on board.
It's better to have too much space than not enough. It's always helpful to consult with a reputable limo service provider who can guide you based on their experience and expertise.
Remember that planning ahead is crucial. Once you've determined the size and capacity needed, don't forget to book early and secure your spot with a deposit.
Comparing Party Buses and Limos: Pros and Cons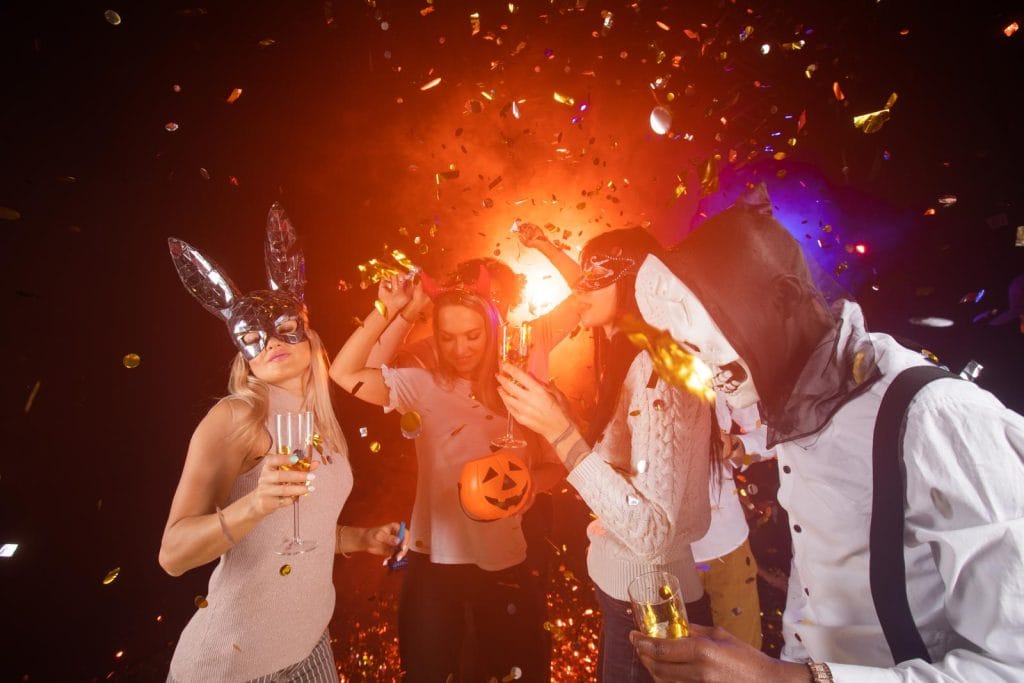 Benefits of Choosing a Party Bus over a Traditional Limo
Party buses are all the rage these days, and for good reason! Here are some benefits to consider when choosing a party bus for your event:
Ample Space: Party buses offer more room compared to traditional limos, making them perfect for large groups who want to party together. You'll have plenty of space to dance, mingle, and enjoy the ride.

Entertainment Options: Most party buses come equipped with state-of-the-art entertainment systems, including high-quality sound systems, flat-screen TVs, and even dance floors. It's like having your own private nightclub on wheels!

Versatility: Party buses are versatile and can be customized to suit different occasions. Whether you're celebrating a birthday, a bachelor/bachelorette party, or just a night out with friends, you can create the perfect ambiance inside the bus.
Drawbacks of Opting for a Party Bus Instead of a Limo
While party buses have their advantages, it's essential to consider the potential drawbacks as well:
Higher Cost: Renting a party bus tends to be more expensive than renting a traditional limo due to its larger size and additional amenities. If you're on a tight budget, this might be something to keep in mind.

Limited Accessibility: Due to their size and weight restrictions, party buses may not be able to access certain areas or venues that limos can easily navigate through. It's important to check if your desired destinations can accommodate a party bus.
Considering Your Specific Needs When Deciding Between the Two Options
When choosing between a party bus and a traditional limo, it ultimately comes down to your specific needs and preferences:
If you have a large group of people who want ample space and an unforgettable experience with top-notch entertainment, a party bus might be the perfect choice.

On the other hand, if you're looking for a more elegant and intimate setting with fewer people, a traditional limo can provide a luxurious and classic experience.
It's crucial to read reviews, compare prices, and evaluate what each option offers to ensure you make an informed decision that aligns with your event requirements. Remember, it's all about creating an unforgettable experience for you and your guests!
Tips for Getting the Best Party Bus Experience
Planning ahead is key to ensuring you get the best party bus experience for your event. By securing your desired date and time in advance, you can avoid any last-minute disappointments. This way, you'll have peace of mind knowing that the party bus will be available when you need it.
When communicating with the rental company, make sure to clearly express your preferences and requirements. Let them know how many guests will be attending, where you want to go, and any specific amenities or features you'd like on board. This will help them tailor the experience to your needs and ensure everyone has a great time.
Checking reviews and recommendations before making a final decision is crucial. Look for feedback from previous customers who have used the same rental company or specific party bus model. Their experiences can give you valuable insights into what to expect and whether it aligns with what you're looking for.
Don't forget about gratuity! It's customary to tip the driver at the end of the journey as a token of appreciation for their service. While there are no set rules for how much to tip, a general guideline is around 15-20% of the total cost of the rental.
By following these tips, you can maximize your chances of getting the best party bus experience possible. So plan ahead, communicate your preferences clearly, check reviews and recommendations, and remember to show some love to your driver with a well-deserved gratuity!
Read Also: Exceptional Experiences with Top Limo's Airport Car Service
Exploring Different Types of Party Buses Available
If you're planning a party or special event and want to arrive in style, renting a party limo bus is the way to go. These buses come in a variety of themes, styles, and designs that can add an extra touch of fun and excitement to any occasion.
Variety in themes, styles, and designs of party buses
Party buses come in all shapes and sizes, each with its own unique features and design elements. From sleek and modern to flashy and extravagant, there's a party bus out there to suit every taste. Whether you're looking for a classy vintage-inspired bus for a wedding or a vibrant neon-lit bus for a night on the town, you'll find plenty of options to choose from.
Specialty features like dance floors, bars, or entertainment systems
One of the best things about party buses is their specialty features that take your celebration to the next level. Many party buses are equipped with dance floors where you can groove to your favorite tunes while on the move. Some even have built-in bars where you can enjoy drinks with your friends throughout the journey. And if that's not enough, there are also party buses with top-of-the-line entertainment systems that include TVs, sound systems, and even karaoke machines.
Customization options based on specific event requirements
Every event has its own unique requirements. Party bus rental companies understand this and offer customization options to meet your specific needs. Whether you need extra seating for a large group or want to decorate the bus according to your event theme, many companies are flexible enough to accommodate these requests.
Selecting the Perfect Party Limo Bus
Now that you have explored all the important factors and considerations when choosing a party limo bus, it's time to make your decision. Remember, selecting the perfect party limo bus is crucial to ensuring an unforgettable experience for you and your guests. Consider the size and capacity needed, compare the pros and cons of different options, and explore the various types of party buses available. By taking these steps, you can narrow down your choices and find the best party limo bus for your event.
So go ahead, book that stylish party limo bus that will transport you in luxury and style. Whether it's a milestone birthday celebration or a bachelorette party, make sure to choose a reliable company with positive reviews to ensure a smooth experience. Don't forget to plan ahead and book early to secure the availability of your desired vehicle. Now get ready to create memories that will last a lifetime!
FAQs
How far in advance should I book a party limo bus?
It is recommended to book a party limo bus at least 2-3 months in advance, especially if you are planning your event during peak seasons or weekends. This allows you to have more options available and ensures that you secure the vehicle of your choice.
Can I bring my own drinks on board?
This depends on the policies of the specific party limo bus company. Some companies allow passengers to bring their own drinks while others may have restrictions or provide their own onboard bar service. It's best to inquire about this beforehand so that you can plan accordingly.
Are there any additional charges besides the rental fee?
In addition to the rental fee, there may be additional charges such as gratuity for the driver, fuel surcharges, toll fees, cleaning fees, or overtime charges if your event extends beyond the agreed-upon time limit. Make sure to clarify all the costs involved before finalizing your booking.
What happens if there is a delay or change in my event schedule?
It's important to communicate any changes or delays in your event schedule with the party limo bus company as soon as possible. They will do their best to accommodate your new timeline, but it's crucial to keep them informed to avoid any conflicts or additional charges.
Are there any age restrictions for renting a party limo bus?
Most party limo bus companies require renters and passengers to be at least 21 years old. This is because alcohol may be served on board, and the driver needs assurance that all passengers are of legal drinking age. Make sure to check the age requirements with the company you choose before making a reservation.