Did you know that party bus rentals in Hamilton have become increasingly popular over the past few years? With their spacious interiors, vibrant lighting, and onboard entertainment systems, party buses offer a unique and unforgettable experience for any celebration. However, choosing the right party bus rental can be a daunting task. You want to ensure that you select a reliable and reputable company that can meet your specific needs.
That's where Top Limo comes in. As one of the top party bus rental Hamilton, they offer a wide range of vehicles to accommodate any group size or occasion. Whether you're planning a bachelor/bachelorette party, birthday celebration, or corporate event, Top Limo has got you covered.
Factors to Consider When Selecting a Party Bus Rental Hamilton
Capacity and Size Options for Different Group Sizes
When choosing a party bus rental in Hamilton, one of the first things you need to consider is the capacity and size of the vehicle. Think about how many people will be attending your party and ensure that the party bus can comfortably accommodate everyone. Some party buses have a maximum capacity of 20 passengers, while others can hold up to 40 or more. Take into account the size of your group and choose a party bus that provides enough space for everyone to move around and enjoy themselves.
Safety Features and Certifications to Prioritize
Safety should always be a top priority when selecting a party bus rental. Look for rentals that prioritize safety by ensuring their vehicles are regularly inspected and maintained. Check if they have all the necessary certifications, such as proper licensing and insurance coverage. Inquire about safety features like seat belts, airbags, and emergency exits. You want to make sure that you and your guests will be safe throughout the entire journey.
Availability of Amenities like Sound Systems and Lighting
Partying on a bus is all about having fun! So, it's essential to consider the amenities available on board. Look for party buses that offer impressive sound systems so you can blast your favorite tunes while cruising around Hamilton. Lighting options like laser lights or disco balls can also enhance the overall atmosphere of your celebration. Some rentals even provide additional amenities like mini-bars or dance floors, which can elevate your experience.
By considering these factors – capacity and size options, safety features and certifications, as well as the availability of amenities – you'll be able to choose the right party bus rental in Hamilton that meets all your transportation needs for an unforgettable bachelorette party or any other celebration on wheels!
Read Also: The Benefits of Choosing a Hamilton Party Limo for Your Next Bash
Tips for Finding the Best Party Bus Rental Deals
Compare Prices and Packages
To ensure you get the best deal on a party bus rental in Hamilton, it's important to compare prices and packages from different rental companies. Take the time to research and reach out to multiple providers to get a sense of their pricing structures. This will help you understand what is included in each package and whether any additional fees apply.
Look for Promotions and Discounts
Keep an eye out for any ongoing promotions or discounts offered by party bus rental companies. Many businesses run special deals during certain times of the year or for specific events like bachelorette parties or birthdays. By taking advantage of these offers, you can save some extra cash while still enjoying a fantastic travel experience.
Consider Weekday or Off-Season Rentals
If your schedule allows for flexibility, consider renting a party bus on a weekday or during the off-season. Rental prices tend to be lower during these times as demand is typically lower than on weekends or peak seasons. You may find better deals and have more options available when booking outside of popular dates.
Read Reviews and Ask for Recommendations
Before finalizing your decision, take some time to read reviews from previous customers who have used the party bus rental services you are considering. Their experiences can provide valuable insights into the quality of service, professionalism of drivers, and overall satisfaction with the company. Don't hesitate to ask friends, family members, or colleagues if they have any recommendations based on their own experiences.
Popular Party Bus Types and Amenities
If you're planning a party or special event in Hamilton, finding the right party bus rental can make all the difference. Party buses come in various types and offer different amenities to suit your needs.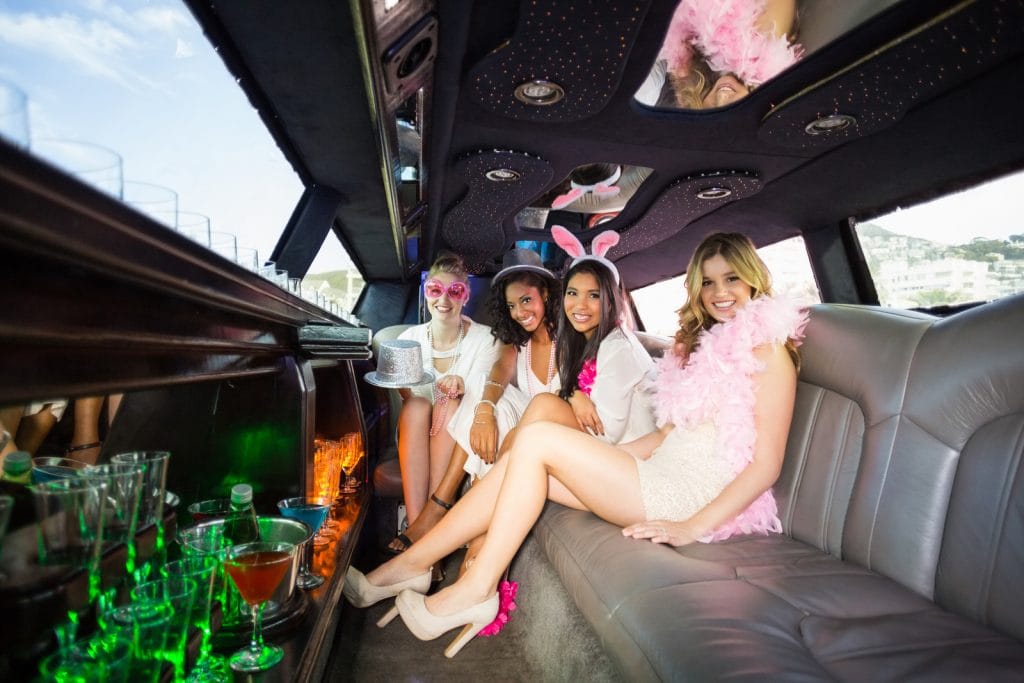 Let's explore some popular party bus types and the amenities they commonly offer.
Different Types of Party Buses
Standard Party Buses: These are the most common type of party buses and can accommodate a moderate-sized group of passengers. They often feature comfortable seating, music systems, and basic amenities.

Luxury Party Buses: If you want to add a touch of elegance to your event, luxury party buses are the way to go. These buses typically have plush interiors, stylish lighting, high-quality sound systems, and additional features like minibars.

Double-Decker Party Buses: For larger groups or those who want extra space to dance and mingle, double-decker party buses are an excellent choice. These buses have two levels with ample room for entertainment on both floors.
Amenities Found in Party Buses
Bars: Many party buses come equipped with fully stocked bars where you can enjoy your favorite drinks while on the move.

Dance Floors: To keep the party going, dance floors with vibrant lighting are often included in party bus rentals.

TVs and Entertainment Systems: Some party buses feature flat-screen TVs, DVD players, and surround sound systems for added entertainment during your ride.

Comfortable Seating: Whether it's plush leather seats or cozy couches, comfortable seating is essential for a pleasant journey.

Climate Control: To ensure everyone stays comfortable regardless of the weather outside, most party buses have climate control systems.
Customization Options
Party bus services also provide customization options based on specific event needs:
Decorations: You can personalize the interior of the bus with decorations that match your theme or occasion.

Music Selection: You can curate your own playlist or request a DJ to provide the perfect soundtrack for your event.

Catering: Some party bus rentals offer catering services, allowing you to enjoy delicious food and drinks while on board.
When choosing the right party bus rental in Hamilton, consider the type of bus that suits your group size and the amenities that will enhance your experience. Don't forget to inquire about customization options to make your event truly unforgettable.
Balancing Cost and Benefits: Choosing the Right Price
Evaluating pricing packages based on included services and hours of rental
One of the most important factors to consider is the price. It's crucial to evaluate pricing packages carefully, taking into account the services included and the number of hours you can rent the bus.
Here are some key points to keep in mind when evaluating pricing packages:
Look for packages that offer a range of amenities and services, such as a professional chauffeur, sound systems, lighting effects, and comfortable seating.

Consider how many hours are included in the rental package. Some companies may have a minimum number of hours required for booking, while others may offer flexible options.

Compare prices between different rental companies to ensure you're getting a fair deal. Keep in mind that higher prices don't always guarantee better service or amenities.
Assessing additional costs such as fuel surcharges or gratuity fees
In addition to the base price of the party bus rental, it's important to factor in any additional costs that may be associated with your booking. These costs can vary depending on the company and should be assessed before making a decision.
Consider these points when assessing additional costs:
Check if there are any fuel surcharges or gratuity fees added to the final bill. These charges can significantly increase the overall cost of your rental.

Ask about any potential hidden fees that may not be initially mentioned. It's essential to have full transparency regarding all costs involved.

Take note of any deposit requirements or cancellation policies that may affect your final expenses.
Read Also: Top Reasons to Choose a Limo to Toronto Airport with TopLimo
Considering budget-friendly alternatives without compromising quality
While everyone wants their party bus experience to be memorable and enjoyable, it's also important to consider your budget. Fortunately, there are ways to find budget-friendly alternatives without compromising on quality.
Here are some tips for finding affordable party bus rentals:
Consider booking during off-peak times or weekdays when prices may be lower.

Look for package deals or discounts offered by rental companies. They may have special rates for specific events or group sizes.

Don't forget to read customer reviews and testimonials to ensure the quality of service is up to your standards.
By carefully evaluating pricing packages, assessing additional costs, and considering budget-friendly alternatives, you can find the right party bus rental in Hamilton that fits your needs and budget.
Professional Service by Top Limo: Best Value
Top Limo is known for its exceptional customer service, making it the top choice for party bus rentals in Hamilton. Their team of experienced drivers is professional and punctual, ensuring a smooth and enjoyable ride for all passengers.
Reputation for Excellent Customer Service
Top Limo stands out from the rest due to its commitment to providing top-notch customer service. They prioritize customer satisfaction above all else, going the extra mile to make every journey memorable. With their friendly and courteous staff, you can expect a seamless experience from start to finish.
Experienced Drivers' Professionalism and Punctuality
One of the key factors that set Top Limo apart is its team of highly skilled drivers. These professionals have extensive experience in the transportation industry and are well-versed in navigating the roads of Hamilton. They not only ensure a safe and comfortable ride but also maintain professionalism throughout your journey. Whether attending a special event or heading to the airport, you can rely on Top Limo's drivers to get you there on time.
Positive Customer Testimonials Showcasing Commitment to Satisfaction
Don't just take our word for it – numerous satisfied customers have shared their positive experiences with Top Limo. From weddings to corporate events, people have praised the company's dedication to providing excellent service. These testimonials highlight how Top Limo goes above and beyond expectations, making them the go-to choice for party bus rentals in Hamilton.
Making the Right Choice for Your Event
Now that you better understand how to choose the right party bus rental, it's time to decide. Remember, selecting the perfect party bus can greatly enhance your event and leave a lasting impression on your guests. Consider all the factors we discussed, from the amenities offered to the cost and benefits balance.
When making your final choice, trust Top Limo for professional service and the best value. Just like a skilled DJ who knows how to keep the crowd entertained or a talented mixologist who crafts delicious cocktails, Top Limo understands how to create an unforgettable experience. With their top-notch vehicles and exceptional customer service, they will ensure that your journey is smooth and enjoyable from start to finish.
So don't settle for anything less than extraordinary. Choose Top Limo's Party Bus Rental Hamilton for your next event and let them take care of all your party bus rental needs!
FAQs
How far in advance should I book a party bus rental?
It's recommended to book your party bus rental as early as possible, especially during peak seasons or popular event dates. This ensures that you have a wide selection of vehicles available and allows you enough time to plan other aspects of your event.
Are there any age restrictions for renting a party bus?
Yes, most party bus rentals require all passengers to be at least 21 years old due to alcohol consumption regulations. However, there are some exceptions where underage passengers may be allowed if accompanied by adults or if no alcohol is present on board.
Can I bring my own music on the party bus?
Absolutely! Most party buses come equipped with state-of-the-art sound systems that allow you to connect your own devices via Bluetooth or auxiliary cables. Feel free to create an epic playlist that matches the vibe of your event.
Is gratuity included in the rental price?
Gratuity is usually not included in the rental price. It's customary to tip your driver based on their performance and service. The standard gratuity range is 15-20% of the total rental cost.
What happens if my event runs longer than expected?
If your event extends beyond the agreed-upon rental time, additional charges may apply. It's essential to communicate with the party bus rental company beforehand to discuss any potential overtime fees and make necessary arrangements.