Did you know that over 40% of bachelorette party planners in Toronto choose to rent a party bus for their celebration? It's no surprise why! A Party Bus Toronto is the ultimate game-changer. Not only does it provide convenience and flexibility, but it also ensures the safety of all your guests as you travel to different venues throughout the city.
Say goodbye to worrying about transportation logistics and hello to an epic night out on wheels. Buckle up, because we're about to dive into all the reasons why a party bus is a must-have for your Toronto bachelor(ette) party.
Key Points for Hosting a Memorable Bachelorette Party in Toronto
Explore the Vibrant Nightlife Scene
Toronto boasts a vibrant nightlife scene that offers numerous options for entertainment. From trendy bars and nightclubs to live music venues and lounges, there's something for everyone. Get ready to dance the night away or enjoy live performances by local artists.
Incorporate Themed Activities or Games
To make your bachelorette party even more exciting, consider incorporating themed activities or games. Whether it's a scavenger hunt around the city, karaoke sessions, or cocktail-making classes, these fun-filled activities will create lasting memories and keep the energy high throughout the night.
Plan Ahead and Make Reservations
To ensure a smooth and unforgettable bachelorette party experience, it's crucial to plan ahead and make reservations in advance. This will help you secure the best venues and services for your group. Whether you're looking for a private VIP area at a nightclub or a luxurious spa day, booking in advance ensures availability and avoids any last-minute disappointments.
Consider renting a Party Bus Toronto. Not only does it provide convenient transportation for your group, but it also adds an extra element of fun to the celebration. A party bus allows you to travel together while enjoying music, drinks, and good company between destinations.
Read Also: Top Casinos to Visit with a Limo Service Burlington – Toplimo
Benefits of Renting a Party Bus for Your Bachelorette Celebration
Eliminate the Need for Designated Drivers
No need to worry about finding a designated driver or relying on rideshares when you rent a party bus for your bachelorette celebration in Toronto. Professional chauffeurs will handle all the transportation, ensuring everyone gets home safely at the end of the night.
Keep the Group Together
With a party bus, you can keep your entire group together throughout the night. No one will get lost or left behind as you travel from one destination to another. This means no more frantic phone calls trying to locate missing friends and no more waiting around for stragglers.
Enjoy Onboard Amenities
Party buses are not just ordinary vehicles; they are equipped with exciting onboard amenities that will enhance your bachelorette celebration experience. Dance floors, music systems, comfortable seating, and even disco lights are just some of the features you can expect. You and your friends can dance, sing along to your favorite tunes, and have a blast while traveling between destinations.
Create Memorable Moments
Renting a party bus for your bachelorette celebration adds an extra element of fun and excitement to the night. The unique experience of cruising around Toronto with your closest friends creates lasting memories that you'll cherish forever. Whether it's belting out karaoke songs on the bus or taking memorable group photos against stunning city backdrops, renting a party bus ensures that your bachelorette celebration is truly unforgettable.
Top Reasons to Choose a Party Bus for Transportation Needs
Planning a bachelor(ette) party in Toronto? Here's why you need a party bus. A party bus offers several advantages that can make your celebration even more memorable and hassle-free.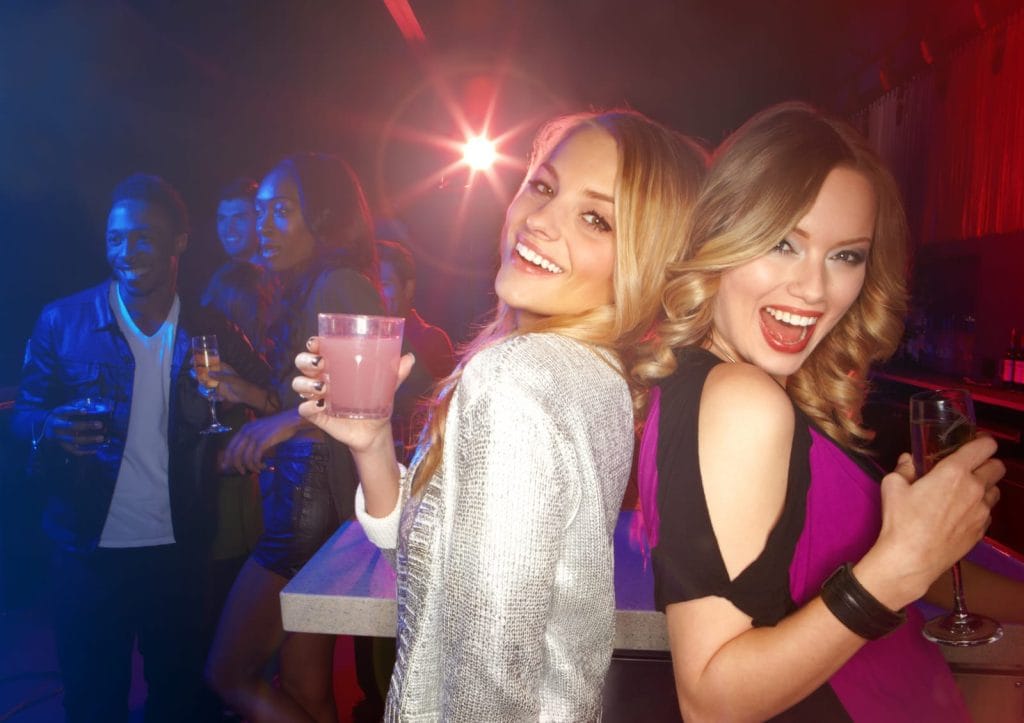 Avoid Parking Hassles
With a party bus, you can avoid the headache of finding parking at each venue. Instead, the bus will drop you off directly at the entrance of each location, ensuring easy access and saving precious time. No more circling around busy streets or worrying about parking meters!
Save Time and Effort
Coordinating multiple cars or relying on public transportation schedules can be quite challenging, especially when you have a large group of friends attending the party. By choosing a party bus, everyone can travel together, eliminating the need for separate vehicles. This not only saves time but also reduces the effort required to organize transportation logistics.
Cost-Sharing among Guests
Renting individual taxis or using rideshare services for everyone in your group can quickly add up and become expensive. A party bus provides an affordable alternative by allowing guests to share the cost of transportation. Splitting the bill among all attendees makes it much more budget-friendly compared to other options.
So, whether you're bar-hopping through Toronto's vibrant nightlife scene or exploring various attractions during your bachelor(ette) celebration, renting a party bus is an excellent choice for convenient and stress-free transportation.
Unique Activities and Venues to Consider in Toronto
If you're planning a bachelor(ette) party in Toronto, you're in for a wild time! The city is bursting with unique activities and venues that will make your celebration unforgettable. Here are some suggestions to help you plan an epic night out:
Trendy Cocktail Bars
Toronto is home to numerous trendy cocktail bars that offer signature drinks and lively atmospheres perfect for celebrating. From rooftop bars with stunning views to hidden speakeasies tucked away in alleyways, the city has it all. Sip on expertly crafted cocktails while enjoying the buzzing energy of the crowd.
Private Karaoke Rooms
Why not unleash your inner rockstar at a private karaoke room? Gather your friends, pick your favorite tunes, and sing your heart out! Toronto has plenty of karaoke joints where you can belt out your favorite hits without any judgment. It's a fantastic way to let loose and have some laughs with your crew.
Scenic Boat Cruises
For a unique experience, consider embarking on a scenic boat cruise along Lake Ontario. You'll be treated to breathtaking views of Toronto's skyline as you sail across the water. Dance the night away on deck or simply relax and enjoy the picturesque scenery. It's a memorable way to celebrate while taking in the beauty of the city.
Escape Rooms
If you're up for an adventure, why not try an escape room? These immersive experiences are perfect for groups looking for some excitement and teamwork. Work together to solve puzzles, uncover clues, and escape before time runs out. It's an adrenaline-pumping activity that will surely bond your group even more.
Art Tours
Toronto is known for its vibrant art scene, so why not incorporate it into your bachelor(ette) party? Take an art tour around town and explore galleries showcasing local talent or even participate in interactive art workshops. It's a creative and unique way to celebrate while appreciating the city's artistic side.
So, whether you're sipping cocktails, singing your heart out, cruising on a boat, solving puzzles, or exploring art, Toronto offers a plethora of exciting options for your bachelor(ette) party. Get ready to have an unforgettable night!
Read Also: Benefits of Choosing Toronto Airport Limo for Your Airport Transfer
Ensuring Convenience and Safety with a Party Bus Rental
Planning a bachelor(ette) party in Toronto? If you want to make your celebration unforgettable, renting a party bus is the way to go. Not only will it add an element of fun and excitement to your event, but it also offers several practical benefits that ensure convenience and safety for everyone involved.
Professional Drivers Navigate Traffic and Unfamiliar Areas
One of the biggest advantages of renting a party bus is having professional drivers at your service. These experienced drivers know the ins and outs of Toronto's streets, ensuring smooth navigation through traffic and unfamiliar areas. You won't have to worry about getting lost or wasting time trying to find your destination. Just sit back, relax, and enjoy the ride while the driver takes care of everything.
No Worries About Parking Spaces or Fees
Finding parking spaces in Toronto can be a real hassle, especially during peak hours or popular events. With a party bus rental, you can forget about searching for parking spots or dealing with expensive parking fees. The party bus will drop you off right at your desired location without any inconvenience.
Safe Transportation for Everyone
Safety should always be a top priority when planning any kind of celebration, especially one involving alcohol. Renting a party bus provides you with a designated mode of transportation that ensures everyone gets home safely after enjoying the festivities. You won't have to rely on individual cars or worry about arranging multiple rideshares. The party bus will be there throughout the night, ready to transport you and your friends safely from one venue to another.
So why stress over logistics when planning your bachelor(ette) party in Toronto? Opt for a party bus rental instead! Enjoy the convenience of professional drivers who navigate through traffic and unfamiliar areas while avoiding parking hassles altogether. Most importantly, ensure everyone's safety by providing reliable transportation for all attendees.
Elevate Your Bachelorette Party Experience with a Party Bus
Planning a bachelorette party in Toronto? Look no further than our Party Bus Toronto to take your celebration to the next level. With its unique blend of convenience, safety, and excitement, a party bus offers an unforgettable experience that will leave you and your friends with memories to cherish for years to come.
Imagine cruising through the vibrant streets of Toronto, music pumping, laughter filling the air, as you and your squad revel in the ultimate party on wheels. The party bus becomes your private nightclub, where you can dance, sing along to your favorite tunes, and enjoy refreshing beverages without worrying about designated drivers or navigating through traffic. It's like having your own personal VIP lounge on wheels!
But it's not just about the fun – renting a party bus also ensures convenience and safety for everyone involved. You won't have to worry about coordinating transportation or dealing with multiple cars; instead, you can focus on enjoying every moment of the celebration. Plus, reputable party bus companies prioritize safety by providing professional drivers who are experienced in navigating Toronto's streets.
So why settle for a typical night out when you can take your bachelorette party to new heights with a party bus? Don't miss out on this opportunity to create lasting memories with your closest friends. Book a Party Bus Toronto today and get ready for an epic adventure!
FAQs
Can I bring my own drinks on the party bus?
Yes! Most party buses allow you to bring your own drinks onboard. However, it's essential to check with the rental company beforehand regarding any specific policies or restrictions they may have.
How many people can fit in a typical party bus?
Party buses come in various sizes and can accommodate different group sizes. Depending on the vehicle's capacity, you can find options that seat anywhere from 10-40+ passengers.
Are there age restrictions for renting a party bus?
Yes, there are usually age restrictions for renting a party bus. Most rental companies require all passengers to be at least 21 years old and possess a valid driver's license or identification.
Can I decorate the party bus for my bachelorette party?
Absolutely! Decorating the party bus is part of the fun. Many rental companies even provide basic decorations like balloons or streamers, but you can also bring your own to personalize the space and make it feel extra festive.
What happens if we go over our booked time on the party bus?
If you exceed your booked time on the party bus, additional charges may apply. It's crucial to communicate with the rental company in advance and discuss any potential extensions or overtime fees to avoid surprises later on.