Turn your celebration into an unforgettable event with our top-rated Party Bus Rental Toronto. Our stylish and spacious party buses are the perfect choice for hosting a memorable party on wheels. Whether you're planning a trip, tour, or prom night, or just want to have a fun-filled night out with friends, our fleet of top-of-the-line party buses is ready to make it happen.
Get ready to have a blast as you and your friends embark on an exciting journey filled with music, dancing, and laughter. With our reliable and professional service, you can book our Party Bus Rental Toronto by the hour and enjoy a hassle-free experience from start to finish.
Benefits of Party Bus Rental Toronto for Your Event
Enjoy hassle-free transportation for your entire group
Throwing a memorable party on wheels is made easy with our party bus rental in Toronto. One of the biggest advantages of renting a party bus is the convenience it offers. Instead of dealing with the hassle of coordinating multiple cars or relying on taxis, you can have all your friends together in one vehicle.
Create a fun and lively atmosphere onboard
Ambiance is everything. With our party bus rentals, you can create an exciting and vibrant atmosphere right on board. Blast your favorite tunes through the high-quality sound system, dance to your heart's content on the spacious dance floor, and enjoy various entertainment options that will keep everyone entertained throughout the journey.
Ensure everyone's safety with a designated driver
Safety should always be a top priority when hosting any event. By renting a party bus, you can ensure that everyone gets home safely at the end of the night. Our professional drivers are experienced in navigating Toronto's roads and will take care of getting you from one destination to another without any worries.
Take advantage of door-to-door service
One major perk of renting a party bus is the convenience of door-to-door service. You won't have to worry about finding parking or walking long distances to reach your venue. The party starts as soon as you step onto the bus, and it continues until you arrive back at your doorstep.
Read Also: Choosing the Perfect Luxury Limo in Toronto for Your Special Day
Tips for Planning a Memorable Party on Wheels with a Party Bus Rental
Planning a party on wheels can be an exciting and unique way to celebrate a special occasion. Whether it's a birthday bash, bachelor or bachelorette party, or just a fun night out with friends, renting a Party Bus Rental Toronto can take your event to the next level. Here are some tips to help you plan a memorable party on wheels with our party bus rental service.
Determine the number of guests attending
Before booking your party bus, it's essential to determine how many guests will be joining the celebration. This will help you choose the right-sized party bus that can comfortably accommodate everyone. You don't want your guests feeling cramped or overcrowded during the ride.
Plan ahead and book in advance
To ensure availability for your desired date and time, it's crucial to plan ahead and book your party bus rental well in advance. Popular dates and weekends tend to fill up quickly, so securing your reservation early is key. Don't wait until the last minute!
Customize your party experience
Coordinate with our team to customize your party experience according to your preferences. We offer options like music playlists, decorations, and additional services that can enhance the atmosphere and make your celebration even more memorable. Let us know what you envision for your party on wheels!
Communicate important details to your guests
Once everything is set up, make sure to communicate important details about the event to your guests. Provide them with clear instructions regarding pick-up locations, dress code (if any), and any specific guidelines they need to follow during the ride. Keeping everyone informed will ensure a smooth and enjoyable experience for all.
Renting a party bus in Toronto opens up endless possibilities for throwing an unforgettable celebration on wheels. By following these tips and working closely with our team, you'll create memories that will last a lifetime.
Creating Lasting Memories: How to Make Your Party on Wheels Unforgettable
Incorporate Fun Games and Activities
To keep everyone engaged and entertained throughout the journey, incorporate fun games or activities during the ride. You can organize a trivia quiz, a scavenger hunt, or even a karaoke session. These interactive activities will bring out the laughter and excitement among your guests, making the party on wheels an unforgettable experience.
Capture Precious Moments with Photography
Hiring a professional photographer or setting up photo booths inside the party bus is an excellent way to capture precious moments. Guests can strike poses and take memorable photos that they can cherish later. The photographs will serve as mementos of the fun-filled time spent together during the party on wheels.
Surprise Guests with Personalized Touches
Make your party on wheels extra special by surprising your guests with personalized favors or themed decorations that reflect the occasion. For example, you can provide customized goodie bags filled with small gifts or create a festive atmosphere by decorating the party bus according to a specific theme. These thoughtful touches will leave a lasting impression on your guests.
Add Unique Experiences for Extra Fun
To make your party on wheels stand out from others, consider adding unique experiences such as karaoke machines or live entertainment. Singing along to favorite tunes or enjoying live performances will elevate the overall enjoyment of the journey. Your guests will appreciate these additional elements that make their time on the party bus truly unforgettable.
By incorporating fun games and activities, capturing precious moments through photography, surprising guests with personalized touches, and adding unique experiences for extra fun, you can create a truly memorable party on wheels that everyone will remember for years to come.
Read Also: The Ultimate Occasions for a London, Ontario Limo Service
Elevate Your Experience: Special Events That Demand a Party Bus Rental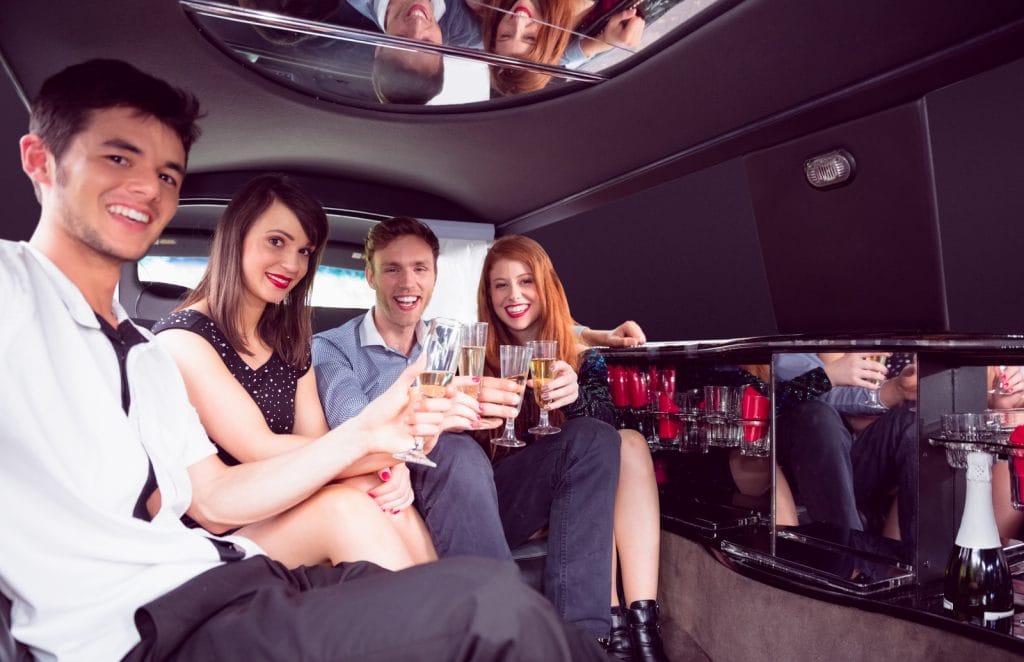 Celebrate Milestone Birthdays in Style
Throwing a memorable party on wheels is the perfect way to celebrate milestone birthdays. Imagine cruising through the city with your friends, music blasting, and laughter filling the air. Our luxurious party bus provides the ultimate setting for an unforgettable birthday bash. With its stylish interior and state-of-the-art amenities, you can dance, sing, and create lasting memories while enjoying a comfortable ride.
Unforgettable Bachelor or Bachelorette Parties
Ordinary just won't cut it. You want an experience that will leave everyone talking for years to come. Our party bus rental is the answer. Gather your closest friends, hop aboard, and let the fun begin! The party bus sets the stage for an epic night of revelry and excitement. From club hopping to bar crawling, you'll be the life of the party as you cruise around town in style.
Make a Grand Entrance at Prom or Homecoming
Prom and homecoming events are all about making a statement. Arriving in a sleek and stylish party bus takes your entrance to another level. Stepping out of our impressive vehicle will surely turn heads and make you feel like a VIP. With our party bus rental, you can enjoy a safe and luxurious ride while creating unforgettable memories with your friends.
Enhance Corporate Events or Team-Building Activities
Corporate events or team-building activities don't have to be dull affairs confined within four walls. Inject some excitement by providing transportation that fosters camaraderie and creates a memorable experience for all attendees. Our party bus offers ample space for networking, team bonding games, or even hosting mini presentations onboard while traveling from one location to another.
The Ultimate Party Bus Rental Experience: Amenities and Services Included
State-of-the-Art Sound Systems
Enjoy an immersive audio experience during your ride with our party bus rental services. Our state-of-the-art sound systems are equipped with premium speakers and subwoofers, ensuring that every beat and melody is crystal clear. Get ready to pump up the volume and dance the night away as you enjoy your favorite tunes onboard.
Luxury Features for a Perfect Ambiance
Step into our party bus and indulge in luxury like never before. Our party limo buses boast plush seating, providing utmost comfort throughout your journey. The LED lighting sets the mood, creating a vibrant atmosphere that matches the energy of your celebration. Plus, with climate control at your fingertips, you can ensure everyone stays comfortable regardless of the weather outside.
Fully Stocked Bar Area
Raise a toast to unforgettable memories with our fully stocked bar area on the party bus. For those of legal drinking age, this is the perfect opportunity to sip on your favorite beverages while cruising around Toronto. From refreshing cocktails to bubbly champagne, our party buses have everything you need to keep the good times rolling.
Knowledgeable Professional Chauffeurs
Sit back and relax as our professional chauffeurs take care of navigating through Toronto's streets. Our experienced drivers are well-versed in the city's hotspots and can suggest popular destinations for your group. Whether you're looking for trendy clubs, scenic spots for photoshoots, or delicious dining options, our chauffeurs have got you covered.
Choose Our Party Bus Rental Toronto for an Unforgettable Celebration
If you're looking to throw a memorable party on wheels in Toronto, look no further than our party bus rental services. With our top-notch amenities and exceptional customer service, we guarantee an unforgettable experience that will leave you and your guests talking about it for years to come.
Imagine cruising through the city streets in a luxurious party bus, surrounded by your closest friends and family, music pumping, and laughter filling the air. Our party buses are equipped with state-of-the-art sound systems, vibrant lighting setups, comfortable seating, and even dance floors. It's like having a nightclub on wheels! You won't find a better way to celebrate any special occasion or milestone.
So why settle for an ordinary venue when you can take your celebration to the next level with our Party Bus Rental Toronto? Whether it's a birthday bash, bachelor or bachelorette party, graduation celebration, or any other event worth commemorating in style, our party buses are the perfect choice. Don't miss out on this opportunity to create memories that will last a lifetime.
FAQs
Can I bring my own music onboard?
Yes! Our party buses are equipped with top-of-the-line sound systems that allow you to connect your own devices via Bluetooth or auxiliary cables. Feel free to curate your playlist and set the mood for an epic celebration.
How many people can fit in a party bus?
Our fleet of party buses comes in various sizes to accommodate different group sizes. From intimate gatherings of 10-15 people to larger parties of up to 40 guests, we have options available for every type of celebration.
Are food and drinks allowed onboard?
Absolutely! We understand that food and drinks are essential elements of any great party. You're welcome to bring your own refreshments onboard our party buses. Just make sure to clean up after yourselves so that everyone can enjoy a clean and comfortable environment.
Is there a minimum rental time?
Yes, we do have a minimum rental time to ensure that you have ample time to enjoy your party on wheels. Our friendly staff will provide you with all the details regarding the minimum rental duration when you inquire about our services.
What areas do you serve in Toronto?
We proudly serve the entire Toronto area, including surrounding neighborhoods and suburbs. Wherever your event is taking place, we'll make sure to pick you up and drop you off at your desired locations within our service area.