Have you ever thought about enhancing your nightlife experience in the party cities in Canada?
Canada's nightlife offers a captivating mix of vibrant rhythms, bright lights, and rich cultural variety. From Montreal's jazz-infused streets to Toronto's lively urban atmosphere, every city delivers a memorable experience.
The Benefits of Booking Luxury Limousines to Visit Party Cities in Canada
Booking a limousine for your night out can transform your party experience. Consider the benefits:
Safety First: Limousines come with professional drivers who prioritize your safety. With their expert navigation skills, you can enjoy the night without worrying about driving under the influence or finding a designated driver.
No Parking Worries: In bustling cities, finding a parking spot can be a challenge. A limousine service eliminates that stress. You'll be dropped off and picked up right at your destination.
Keep the Group Together: When you're out with friends, sticking together is essential. A limousine ensures that no one gets left behind, making it easier to move from one venue to another as a group.
Luxury and Comfort: Limousines offer comfortable, spacious interiors where you can relax and even continue the party between venues. You'll enjoy plush seating, quality sound systems, and perhaps a glass of bubbly to keep the mood festive.
Convenience: A limousine service handles the logistics of your night out. You can set a schedule, choose your destinations, and leave the rest to the professionals. Your night becomes a seamless, enjoyable experience.
Enhance your nightlife experience with the elegance, convenience, and safety that only the best limousine service can provide.
Toronto, Ontario: The Best Nightlife in Canada
Toronto is the largest city in Canada. It thrives with energy as soon as the sun sets. A mosaic of cultures, it seamlessly melds the world's flavors into its nightlife, making every night a unique celebration.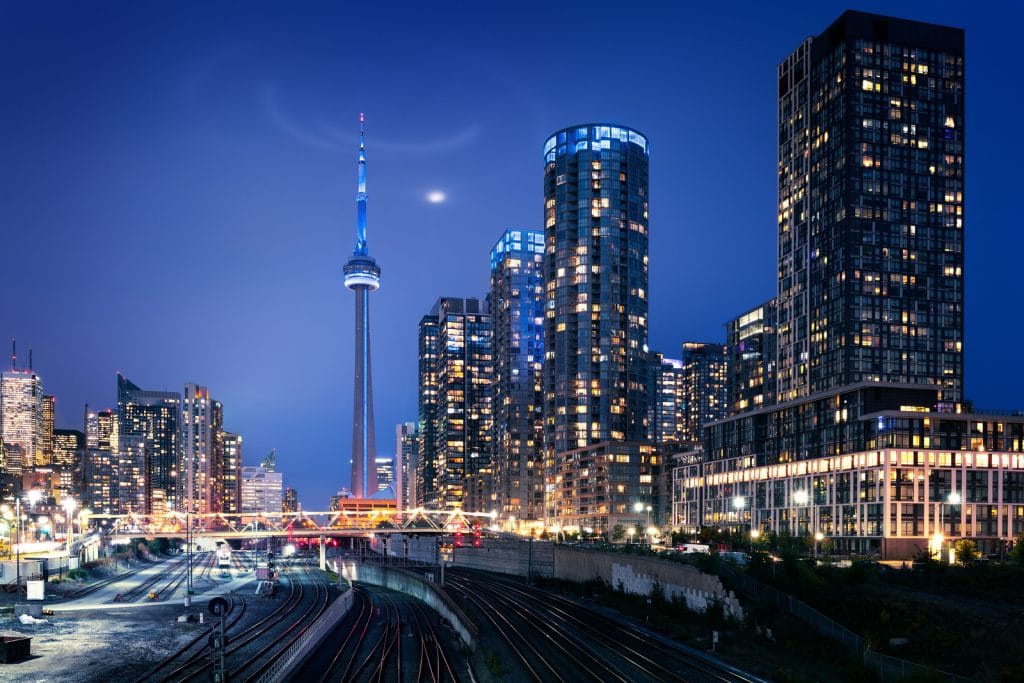 Here's how to experience the city's nocturnal side at its best:
Best Nightlife Spots in Toronto
Entertainment District: This bustling area is home to many of the city's premier clubs, theaters, and restaurants. You can dance, eat, or even just take a stroll to absorb the city's vibes.
Queen Street West: Famous for its chic boutiques by day, by night, it transforms into a hub of trendy bars and music venues.
Distillery District: With cobblestone streets and historic buildings, it offers an atmospheric backdrop for its variety of upscale bars and restaurants.
Famous Clubs & Bars in Toronto
Rebel: A sprawling waterfront nightspot, it's known for hosting high-profile DJs and performers.
The Horseshoe Tavern: A landmark since 1947, it's a heaven for live music lovers.
Toronto International Film Festival (TIFF): Held annually, this event attracts a global audience and celebrity guests, making the city's nightlife even more vibrant during its run.
Best Places to Stay in Toronto:
Fairmont Royal York: A blend of historic charm and modern luxury, it's centrally located to keep you close to the action.
The Drake Hotel: Situated in the artsy Queen West neighborhood, this boutique hotel also boasts one of the city's coolest rooftop bars.
Shangri-La Hotel: A sanctuary in the heart of the city, it's perfect for those who want a mix of nightlife and relaxation.
If you're looking to hop between nightlife locations in Toronto, the travel option you choose must be efficient and convenient. For the discerning traveler or party-goer, booking a luxury limousine in Toronto can be an optimal choice.
Montreal, Quebec City: One of the Top Cities for Best Nightlife in Canada
Montreal offers a nightlife that's as diverse as its cultural heritage. Montreal blends the charm of old-world taverns with the pulse of contemporary clubs. Here's your guide to savoring the best of Montreal after dark.
Best Nightlife Spots in Montreal
Boulevard Saint-Laurent: Often referred to as "The Main", this stretch is packed with bars, nightclubs, and lounges catering to all tastes, from upscale cocktail joints to lively dive bars.
Rue Crescent: Located in downtown Montreal, Rue Crescent Street is a hub of activity, especially during the summer months. Patios, music, and laughter fill the air, making it a must-visit.
Plateau Mont-Royal: An eclectic neighborhood known for its bohemian vibe, you'll find a variety of unique bars, intimate venues, and music spots here.
Famous Clubs & Bars in Montreal
New City Gas: Once an industrial complex, this massive venue now hosts some of the biggest names in electronic music and offers an unforgettable clubbing experience.
Bar Le Lab: A haven for cocktail enthusiasts, this place is renowned for its mixology magic, with bartenders crafting innovative and classic drinks.
Dieu du Ciel!: A beloved brewery, it's perfect for those looking to delve into Quebec's craft beer scene. Their stout and IPAs are particularly popular among locals and visitors alike.
Best Places to Stay in Montreal
Hotel Nelligan: Located in Old Montreal, Hotel Nelligan offers a mix of classic elegance and modern comfort. Plus, it's just a stone's throw away from several vibrant nightlife spots.
W Montreal: Nestled in the city's business district, this trendy hotel is known for its chic design and its proximity to popular clubs and bars.
Auberge Le Pomerol: Situated near the Latin Quarter, this boutique hotel provides easy access to several bars and theaters, making it an excellent base for night owls.
London: The Timeless Capital of Nighttime Parties
London boasts a nightlife that rivals the world's best. London promises a night of endless possibilities, from swaying to soulful tunes in historic pubs to dancing the night away in avant-garde clubs. It's a city where every night tells a different tale.
Best Nightlife Spots in London
Soho: A historic and culturally rich neighborhood, Soho is packed with diverse bars, clubs, and live music venues that cater to a broad spectrum of night owls.
Shoreditch: Known for its trendy and alternative vibe, Shoreditch offers a mix of traditional pubs, cutting-edge clubs, and cocktail bars.
Camden: With its punk rock roots, Camden is a hotspot for live music, boasting iconic venues and eclectic bars along the Camden Lock.
Famous Party Clubs & Bars:
Fabric: A mainstay in London's club scene, Fabric in Farringdon is famous for its bass-heavy nights and world-class DJs.
The Ministry of Sound: Located in Elephant & Castle, it's one of the most recognized names in global clubbing, having hosted the crests of electronic music waves for decades.
The Connaught Bar: Nestled in Mayfair, this bar exudes sophistication. Known for its art deco interiors and expertly crafted cocktails, it's a must-visit for those seeking a more upscale night out.
Best Places to Stay in London
The Ritz London: Located in Piccadilly, The Ritz offers a luxurious stay and is just a short walk from some of London's premier nightlife areas, including Mayfair and Soho.
Ace Hotel London Shoreditch: Perfect for those wanting to be in the heart of East London's vibrant nightlife, this trendy hotel is both comfortable and chic.
The Bloomsbury: A stone's throw away from the theaters of the West End and the bars of Soho, this hotel seamlessly blends luxury with convenience.
What's the best way other than hiring a limousine in London to travel in style? Contact Top Limo if you have any questions or simply book London Limousine Service.
Markham: A Suburban Nightlife Gem Just Outside Toronto
Markham holds its own with a unique blend of nightlife experiences that echo its rich cultural diversity. A blend of modernity and heritage, Markham's nightlife is for those who prefer a more relaxed yet equally memorable night out.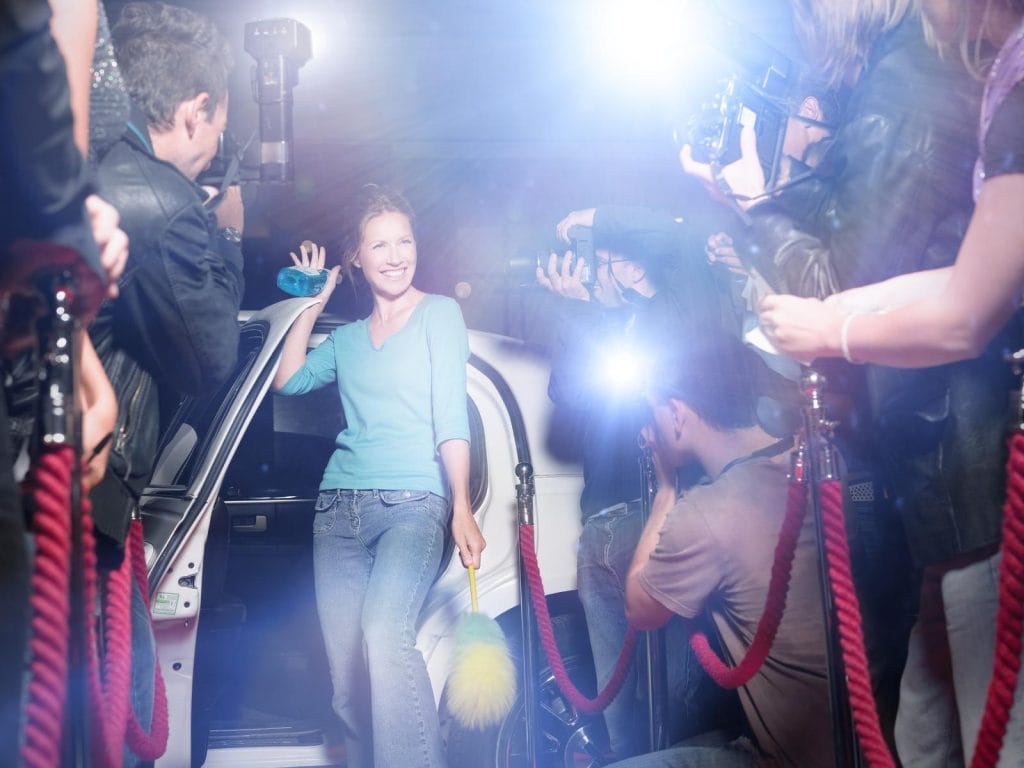 Best Nightlife Spots in Markham
Downtown Markham: A vibrant hub offering a variety of restaurants, bars, and entertainment venues, it's the go-to spot for both locals and visitors.
Unionville Main Street: Steeped in history, this charming area comes alive at night with its quaint bars, live music venues, and special events, especially during the summer months.
First Markham Place: For those who appreciate Asian culture, this area is filled with karaoke bars, lounges, and eateries that stay open late.
Famous Clubs & Bars in Markham
Club Yolo: One of Markham's most popular clubs, it offers themed nights, top-tier DJs, and a lively dance floor.
Pixel 8 Lounge: A blend of a sports bar and a nightlife spot, it's known for its innovative cocktails, game nights, and vibrant atmosphere.
Zen Lounge: Inspired by Eastern aesthetics, this upscale lounge offers a relaxed setting, perfect for intimate conversations and laid-back evenings.
Best Places to Stay in Markham
Hilton Toronto/Markham Suites Conference Centre & Spa: Offering a luxury experience, it's centrally located and provides easy access to major nightlife spots.
Courtyard by Marriott Toronto Northeast/Markham: A blend of comfort and modern design, it's perfect for visitors looking to explore Markham's nightlife.
Staybridge Suites Toronto-Markham: Located close to Downtown Markham, it offers spacious rooms and a homely atmosphere.
Elevate your Markham nightlife experience with a touch of elegance. Our Markham limousine service ensures timely pickups, luxurious rides, and a night that begins and ends in style. Book a luxury limousine now and experience Markham like never before.
Niagara Falls: More Than Just Daylight Wonders
While the cascading waters of Niagara Falls are an undeniable daytime spectacle, the city itself boasts an energetic nightlife that promises memorable adventures once the sun goes down. Let's dive into the nighttime offerings of this world-famous destination.
Best Nightlife Spots in Niagara Falls
Clifton Hill: Known as the "Street of Fun", Clifton Hill lights up at night with its vibrant attractions, eateries, and bars. The lively atmosphere is perfect for those seeking an energetic night out.
Fallsview Boulevard: Overlooking the majestic falls, this area is home to upscale lounges, casinos, and live entertainment venues.
Queen Street: For a more local experience, head to Queen Street. It's dotted with intimate bars, and live music venues, and is a hub for cultural events.
Famous Clubs & Bars in Niagara Falls
Dragonfly Nightclub: Located in the Fallsview Casino Resort, it's the go-to spot for those looking to dance the night away amidst pulsating lights and top-tier DJs.
R5 Lounge: Offering panoramic views of the falls, this upscale lounge in the Fallsview Casino Resort is known for its innovative cocktails and chic ambiance.
Taps on Queen: A beloved local spot, this brewery and bar offer a wide selection of craft beers and frequently hosts live music.
Best Places to Stay in Niagara Falls
Sheraton on the Falls: Located right next to the falls, guests are treated to breathtaking views and top-notch amenities, with nightlife spots just a short stroll away.
The Tower Hotel: Offering a unique, boutique experience, its panoramic rooms provide a bird's eye view of the falls, and it's close to major nightlife hubs.
Crowne Plaza Niagara Falls – Fallsview: A historic hotel that's been hosting guests since the 1920s, it's conveniently located near Clifton Hill and other nightlife attractions.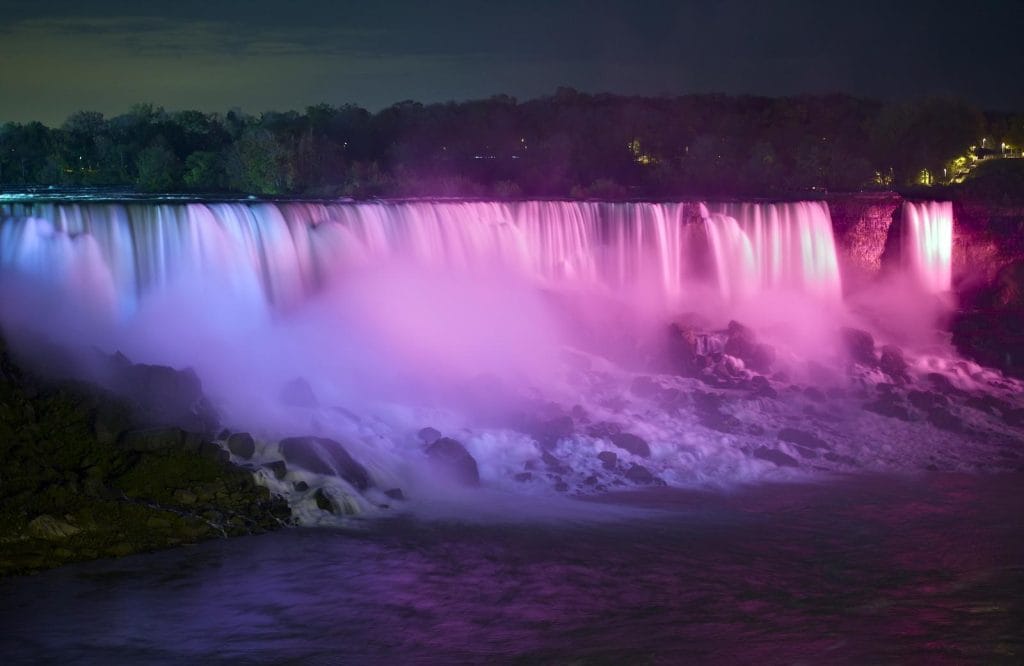 Why settle for the ordinary when you can elevate your experience? Our limousine service promises punctuality, unparalleled comfort, and a touch of sophistication to your nighttime adventures. Ready for a night you won't soon forget? Book Niagara Falls Limo now and traverse Niagara Falls in true elegance.
Brampton: The Blooming Nightlife of Flower City
Brampton, fondly known as "Flower City", offers an array of nightlife experiences that are both vibrant and varied. From pulsating dance floors to cozy taverns, Brampton proves it's not just its gardens that bloom once the sun goes down.
Best Nightlife Spots in Brampton
Downtown Brampton: The heart of the city comes alive at night with its blend of trendy bars, restaurants, and cultural events, making it a popular spot for locals and visitors.
Queen Street Corridor: Buzzing with activity, this stretch is lined with diverse eateries, pubs, and lounges suitable for all moods and preferences.
Chinguacousy Park: For those who enjoy night picnics, stargazing, or serene evening strolls, this park is a lovely backdrop to a relaxed night out.
Famous Clubs & Bars in Brampton
Tracks Brew Pub: A classic staple, this pub is known for its range of craft beers, live music, and warm ambiance.
The Keltic Rock Pub & Restaurant: A favorite among locals, it offers a lively atmosphere with its themed nights, karaoke sessions, and wide beverage selection.
J. Red & Co: Not just a restaurant, this spot is renowned for its bar atmosphere post-dusk, offering innovative cocktails and foot-tapping music.
Best Places to Stay in Brampton
Courtyard by Marriott Toronto Brampton: Centrally located, this hotel offers a blend of comfort and modern amenities, providing easy access to Brampton's top nightlife destinations.
Hilton Garden Inn Toronto/Brampton: A stone's throw away from major attractions, it promises luxury, top-tier service, and convenience.
Holiday Inn Express Brampton: With its modern facilities and proximity to bustling areas, it's an ideal choice for nightlife enthusiasts.
Our Brampton limousine service ensures you make an entrance wherever you go. Impeccable service, sheer comfort, and a hint of opulence await you. Ready to transform your Brampton nights? Book your Brampton limousine now.
Bottom Line
From the pulsating heart of Toronto to the serene beauty of Brampton, every city has its unique after-dark rhythm. And what better way to match that rhythm than traveling in luxury and style?
With Top Limo, you're not just booking transportation—you're booking an experience. An experience that ensures your journey mirrors the magic of your destination. Whether you're making an entrance at a glamorous event, celebrating a special occasion, or simply treating yourself to the finest in life, our fleet is equipped to match your every mood and need.
Explore the diverse areas we serve and discover a world of luxury vehicles tailored for you. Whether it's the elegance of a sedan, the grandeur of an SUV, the fun vibe of a party bus, or the romantic aura of a wedding limo, Top Limo ensures your travel complements your night perfectly.
Book with Top Limo Now & Travel in the Luxury You Deserve.