So you've booked an airport limo service in Toronto, but how can you ensure you make the most of your experience? Don't worry, we've got you covered.
In this article, we'll give you all the tips and tricks you need to navigate traffic, maximize comfort, and get the best value out of your airport limo service.
Whether you're a frequent traveler or a first-timer, this guide will help you make your journey from the airport a smooth and enjoyable one.
Key Takeaways
Consider price, reputation, and availability when choosing an airport limo service in Toronto.
Get quotes from multiple providers and don't always go for the cheapest option.
Look for customer reviews and testimonials to ensure the quality of the limo service.
Check if the company operates 24/7 and has a large fleet to cater to your needs.
Choosing the Right Airport Limo Service Toronto
When choosing the right airport limo service Toronto, there are several factors to consider. Price, reputation, and availability are all important aspects to take into account.
Price is often a major factor when choosing an airport limo service. However, it's also important to remember that cheaper is not always better. Some companies may offer lower prices but compromise on quality or reliability.
Reputation is another important factor to consider. Look for customer reviews and testimonials to gauge the company's reliability and level of service. A reputable airport limo service will have positive feedback from satisfied customers.
Availability is also crucial, especially if you have specific travel requirements. Check if the company operates 24/7 and if they have a large fleet of vehicles to accommodate your needs. You don't want to be left stranded at the airport because the limo service you chose couldn't accommodate your schedule.
Understanding the Different Types of Airport Limos
When it comes to group travel, hiring an airport limo service Toronto can be a great option. You'll find that there are various types of limos available that can accommodate different group sizes, from small to large.
Additionally, if you're looking to add a touch of luxury to your journey, you'll be pleased to know that there are plenty of luxury options available in the form of high-end limos with luxurious amenities and features.
Limos for Group Travel
To make the most of your airport limo service in Toronto for group travel, you'll want to book a spacious limo that can accommodate everyone comfortably.
Here are some advantages and popular destinations for group travel:
Cost-saving: Sharing expenses among a larger group can help reduce individual costs.
Socializing: Group travel allows for shared experiences and bonding with friends or family.
Safety and convenience: Traveling in a group provides added security and assistance.
Popular group travel destinations:
Niagara Falls: Experience the breathtaking beauty of the falls and enjoy various attractions.
Toronto Islands: Explore the scenic islands, relax on the beaches, and enjoy outdoor activities.
The Distillery District: Visit this historic neighborhood for its charming shops, restaurants, and art galleries.
Canada's Wonderland: Have a thrilling day at this amusement park with rides and entertainment for all ages.
Booking a limo for your group travel in Toronto ensures a comfortable and enjoyable journey to these exciting destinations.
Luxury Options Available
For a truly indulgent experience, consider the luxury options available for your group travel in Toronto.
When it comes to traveling in style and comfort, there are several limo services in the city that offer top-notch amenities and personalized service. Imagine being greeted by a professional chauffeur who will cater to your every need, ensuring a seamless and luxurious journey.
These luxury limo services provide a range of amenities, such as plush leather seating, fully stocked bars, and state-of-the-art entertainment systems. You can even customize your experience by requesting specific music or decorations that suit your group's preferences.
With the attention to detail and personalized service offered by these luxury limo services, you and your group can truly enjoy a memorable and opulent travel experience in Toronto.
Tips for Booking an Airport Limo in Advance
When it comes to booking an airport limo in advance, there are several benefits that you should consider.
Firstly, pre-booking allows you to secure a reliable and professional limo service, ensuring that you have a stress-free and comfortable journey.
Secondly, by booking in advance, you have a wider range of availability and options to choose from, allowing you to find the perfect limo that suits your preferences and needs.
Lastly, pre-booking can also save you money as many limo companies offer special discounts and promotions for early reservations, giving you cost-saving advantages.
Benefits of Pre-Booking
By pre-booking your airport limo service in Toronto, you'll enjoy the convenience of having a reliable and luxurious transportation option waiting for you upon arrival. Here are the benefits of pre-booking:
Flexibility: When you pre-book your airport limo, you have the flexibility to choose the pick-up and drop-off times that suit your schedule. This allows you to have control over your travel plans and ensures that you won't have to wait for a taxi or rely on public transportation.
Personalized service: Pre-booking your airport limo allows you to customize your experience according to your preferences. You can choose the type of vehicle, such as a sedan or SUV, that best suits your needs. Additionally, you can request any special amenities or services, such as Wi-Fi or a meet-and-greet service, to make your journey even more comfortable.
Peace of mind: Knowing that your airport limo will be waiting for you eliminates the stress and uncertainty of finding transportation upon arrival. Whether you're traveling alone or with a group, pre-booking ensures a hassle-free and smooth start to your trip.
Time-saving: Pre-booking your airport limo service saves you valuable time. Instead of waiting in long lines for a taxi or trying to navigate public transportation, you can simply step out of the airport and into your waiting limo. This allows you to maximize your time and start enjoying your trip right away.
Availability and Options
The availability of different vehicle options ensures that there is a limo to suit every traveler's needs. Whether you are traveling alone or with a group, there are vehicles that can accommodate your needs. From luxury sedans to spacious SUVs and even stretch limos, you can select the perfect vehicle based on your preferences and the number of passengers.
When it comes to airport limo services, you can find a wide range of options to choose from. In terms of pricing, airport limo services offer different packages to cater to different budgets. You can opt for hourly rates or choose a fixed price for your trip. It's always a good idea to compare prices and services to find the best deal that meets your requirements.
Cost-Saving Advantages
If you're looking to save money, opting for a package deal can be a great way to get the best value for your airport limo services. Here are some cost-saving tips and benefits of using an airport limo service:
Affordable rates: Airport limo services often offer competitive rates, especially when you book a package deal. This can help you save money compared to other transportation options.
No hidden fees: Unlike taxis or rideshare services, airport limo services usually have transparent pricing with no surprise charges. This means you can budget your travel expenses more effectively.
Professional chauffeurs: Airport limo services provide experienced and professional chauffeurs who are knowledgeable about the local area. They can navigate traffic and choose the best routes, saving you time and stress.
Time-saving convenience: With an airport limo service, you don't have to worry about parking or finding transportation after a long flight. The chauffeur will be waiting for you, ensuring a hassle-free journey to your destination.
Making the Most of Your Airport Limo Experience
To truly maximize your airport limo experience in Toronto, make sure to communicate your pick-up and drop-off preferences clearly to the limo service. By doing so, you can ensure a smooth and hassle-free journey from the airport to your destination.
One of the key benefits of opting for an airport limo service is the convenience it offers. With a dedicated chauffeur waiting for you at the airport, you don't have to worry about navigating through traffic or finding parking. Additionally, airport limos are equipped with spacious interiors, comfortable seating, and amenities like Wi-Fi and charging ports, allowing you to relax and unwind after a long flight.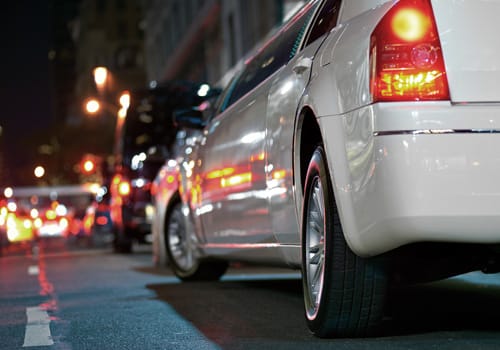 When it comes to airport limo etiquette, it is important to be courteous and respectful towards your chauffeur. Remember to be punctual and ready for pick-up at the designated time, as your chauffeur may have other clients to attend to. It is also customary to tip your chauffeur for their service, typically around 15-20% of the fare.
Communication is key in ensuring a seamless experience, so make sure to inform the limo service of any changes to your travel plans or special requirements. Whether it's a specific route you prefer or an additional stop you need to make, providing clear instructions will help the chauffeur cater to your needs effectively.
What to Expect From Your Airport Limo Service
When you book an airport limo, you can expect a professional chauffeur to be waiting for you at the designated pick-up area. Your airport limo service should strive to exceed your expectations and ensure your customer satisfaction.
Here are some things you can expect from your airport limo service:
Prompt and reliable service: Your airport limo service should be punctual and arrive at the scheduled pick-up time. They should track your flight to ensure they are aware of any delays or changes in your arrival time.
Comfortable and luxurious vehicles: Your airport limo service should provide you with a luxurious and comfortable vehicle. The limo should be well-maintained, clean, and equipped with amenities like leather seats, climate control, and entertainment systems.
Professional and courteous chauffeurs: Your chauffeur should be professional, well-dressed, and knowledgeable about the area. They should provide you with a warm welcome and assist you with your luggage.
Efficient and safe transportation: Your airport limo service should prioritize your safety and provide you with a smooth and efficient transportation experience. The chauffeurs should be skilled drivers and follow all traffic rules and regulations.
Ensuring a Smooth Airport Pickup With Your Limo Service
Ensuring a smooth airport pickup with your limo service starts with providing them with accurate and up-to-date flight information. This is crucial for the limo service to plan and ensure punctuality. When you provide your limo service with your flight details, they can track your flight and adjust their schedule accordingly. This way, they can be at the airport on time to pick you up, regardless of any delays or changes in your flight schedule.
To further enhance your experience, it is important to communicate your luggage requirements to your limo service. Whether you have a single bag or multiple pieces of luggage, informing your limo service in advance will allow them to handle your luggage efficiently. They can make sure that there is enough space in the vehicle to accommodate all your belongings comfortably. Additionally, they can assist you with loading and unloading your luggage, saving you time and effort.
Maximizing Comfort and Convenience in Your Airport Limo
Maximize your comfort and convenience by requesting amenities like Wi-Fi and refreshments in your airport limo. When booking your airport limo, consider these essential items to bring on your trip to ensure a stress-free experience:
Comfortable Clothing: Dress in layers, as the temperature inside the limo can vary. Opt for loose-fitting clothes and comfortable shoes to make your journey more enjoyable.
Entertainment: Bring your favorite books, magazines, or electronic devices to keep yourself entertained during the ride. With Wi-Fi available, you can even stream your favorite movies or TV shows.
Snacks and Refreshments: Pack some snacks and beverages to keep yourself energized throughout the journey. Whether it's a long or short ride, having your favorite treats on hand can make all the difference.
Travel Essentials: Don't forget to bring travel essentials like a neck pillow, eye mask, and earphones to help you relax and unwind during the trip. These items can make your journey more comfortable, especially if you're traveling for long hours.
By incorporating these tips into your airport limo experience, you can ensure a stress-free and enjoyable ride. Remember to communicate your needs and preferences to the limo service provider in advance, so they can cater to your requirements.
Sit back, relax, and enjoy the journey to or from the airport in the utmost comfort and convenience.
Navigating Traffic and Delays With Your Airport Limo
To navigate through traffic and potential delays, you can rely on the experienced chauffeur of your airport limo to take alternative routes and ensure a smooth journey. The bustling streets of Toronto can often lead to congestion, especially during peak travel times. However, with the expertise of your chauffeur, you can rest assured that you will reach your destination on time.
Dealing with unexpected weather conditions is another aspect your chauffeur is well-versed in. Whether it's heavy rain, snowstorms, or fog, your chauffeur will adapt to the conditions and choose the safest route possible. They will stay updated on weather forecasts and road conditions to minimize any potential delays.
Efficient packing and luggage management are also essential when traveling. Your airport limo provides ample space for your belongings, and your chauffeur will assist you in loading and unloading your bags. To make the most of this service, it is advisable to pack efficiently, using packing cubes or compression bags to save space.
Additionally, labeling your bags with your contact information can be helpful in case they get misplaced. This will ensure a stress-free journey, knowing that your belongings are in safe hands.
Getting the Best Value From Your Airport Limo Service
If you want the best value for your money, consider the amenities and services offered by different airport limo providers. When it comes to getting the best customer service experience and saving money on airport limo services, there are a few tips you should keep in mind:
Compare Prices: Research and compare the prices of different airport limo providers. Look for any promotional offers or discounts that may be available.
Book in Advance: To secure the best rates and ensure availability, it's always a good idea to book your airport limo service in advance. Last-minute bookings may result in higher prices and limited options.
Choose the Right Vehicle: Consider your needs and the number of passengers traveling with you. Opting for a larger vehicle may be more cost-effective if you're traveling in a group, while a smaller vehicle may be sufficient for solo travelers.
Check for Additional Fees: Some airport limo providers may charge extra fees for services like tolls, waiting time, or additional stops. Make sure to inquire about any potential extra costs to avoid surprises.
Conclusion
In conclusion, by choosing the right airport limo service in Toronto and understanding the different types of airport limos available, you can make the most of your airport limo experience.
Booking in advance is also important to ensure a smooth airport pickup, maximizing comfort and convenience throughout your journey. Navigating traffic and delays will be hassle-free, ensuring a stress-free travel experience.
Elevate your travel experience with Top Limo's airport service Toronto. Reliable, luxurious, and hassle-free. Contact us for estimates and discover the areas we serve. Don't just arrive—arrive in style. Book now!