Visit Golf Courses Near Toronto on Luxury Airport Limo Service
Ever thought about how to make your golfing experience even more memorable? How about adding a dash of luxury and style to your visit to golf courses near Toronto Airport? Have you considered how a classy ride like a Toronto airport limo could elevate your whole journey to and from the greens?
Swapping the regular car ride for a top-notch limousine service in Toronto is a great idea to enjoy Toronto's finest golf courses. Sounds enticing, doesn't it?
In this guide, we will navigate the ins and outs of blending sport and luxury. How Toronto Airport limo service offers the perfect mix of comfort, style, and hassle-free travel.
Benefits of Toronto Pearson Airport Limo Service for Your Golf Trips
When you choose a luxury airport limousine service, you are entrusting your travel needs to professionals. At Top Limo, we make your golfing day in Greater Toronto Area GTA an all-around exceptional experience, from the first putt to the last.
Airport Limo Toronto City Provides Effortless Convenience
Let's face it, who wants the hassle of navigating traffic or finding parking on a day meant for leisurely golf? With a luxury Toronto airport limousine service, you can wave goodbye to these worries. We handle the logistics so that your mind can stay on the greens.
Travel in Comfort and Style with Ease
How about starting your golfing experience right from your doorstep? Luxury limo services let you travel in absolute style and comfort, ensuring the journey is as enjoyable as the game itself.
Room for Everything
Golf clubs, attire, shoes – it's a lot to carry. No need to fret about space in a luxury Toronto limousine. There's ample room for all your equipment in SUVs and stretch limos. The plush interiors of our car service will let you sit back and relax on your way to golf courses near Toronto Airport.
Always on Time
Aiming for that perfect tee time? Top Limo provides reliable service of Toronto airport taxis that stand synonymous with punctuality and efficiency. We'll make sure you're at your game on schedule, every time.
How to Pick the Perfect Toronto Airport Limousine Service for Your Golf Course Tour
When selecting your ride, remember to consider:
The size of your party
The amount of golf equipment you'll carry
Your style preference.
Whether you want a low-key luxury experience or a high-end party vibe, there's a limousine out there that perfectly matches your golf outing needs.
Sedan Limousines: If you're looking for a compact yet elegant choice, sedan limousines might be for you. They are perfect for up to 3 people, offering a classy ride with comfortable seating and enough space for your golfing gear.
SUV Limousines: Have a slightly larger group? An SUV limo can accommodate up to 6 passengers comfortably. With ample storage for your golf bags, these limo rental rides also provide a luxurious interior for a lavish journey to the golf course.
Stretch Limousines: Going on a golf outing with a larger group of friends or colleagues? Consider a stretch limo, which can accommodate up to 10 passengers. They offer plush interiors, a full bar, and lots of storage space.
Party Bus Limousines: If you're planning a big golf event or party, this is the one for you. These Toronto limos can host 15-20 passengers and are equipped with music systems, bars, and even dance floors!
Top Golf Courses to Visit Near Toronto Pearson International Airport, Ontario
1. Eagle's Nest Golf Club
Eagle's Nest Golf Club is one of the most distinguished golf courses near Toronto. It is located in the charming town of Maple and is the epitome of world-class golfing.
Eagle's Nest Golf Club was designed by renowned architect Doug Carrick. It boasts an 8-hole, par 72 course. This golfing course is surrounded by a stunning setting of rolling hills, lush forests, and natural wetlands.
One of the highlights of Eagle's Nest is its link-style layout, which is a rarity in the GTA region. This feature gives you an experience reminiscent of traditional Scottish golf courses. With strategically placed bunkers and undulating greens, the course offers a challenge to golfers of all skill levels. The club also boasts a high-tech practice facility and golf academy.
Eagle's Nest's impressive clubhouse includes a top-notch restaurant. The panoramic views of the course and impeccable service make it an ideal place to relax after a satisfying round of golf.
2. Angus Glen Golf Club
Angus Glen Golf Club is a widely recognized golfing venue that boasts two 18-hole championship golf courses. Our professional airport transportation service will take you from the airport to Angus Glen Golf Culb in a reliable airport limo service.
Angus Glen Golf Club is situated in Markham. It is a true golfing gem that offers an unparalleled golf experience. Each of its two courses, the South Course and North Course, has hosted Canadian Opens. These milestones set the bar high in terms of golfing excellence.
The South Course was designed by Davis Love III. It is known for its wide fairways, numerous sand traps, and large, undulating greens. It's a course that will test your strategic skills as much as your golfing prowess.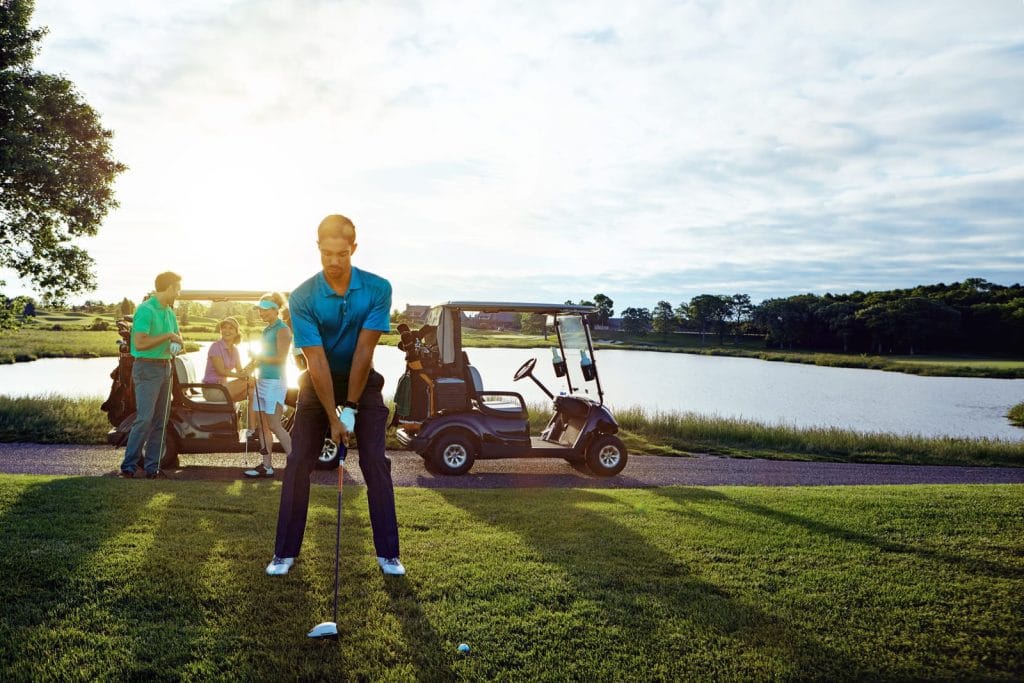 On the other hand, the North Course offers a more traditional parkland-style layout. With tree-lined fairways, beautiful ponds, and elevated tee boxes, this course presents an entirely different set of challenges.
Angus Glen Golf Club is not just about golf, though. The club also features a state-of-the-art golf academy, a high-end steakhouse, and a modern conference center. The splendid setting, fantastic amenities, and the promise of a thrilling golfing challenge make Angus Glen a must-visit spot for every golf aficionado.
Arriving in a luxury limo with courteous chauffeurs adds an extra layer of charm to your unforgettable golfing day. So, ready to swing in style at Angus Glen Golf Club? Call Top Limo for airport transfers, to and from the golf course.
3. Copper Creek Golf Club
Copper Creek Golf Club is one of the Greater Toronto Area's most sought-after golfing destinations. It is situated against the backdrop of the Humber River Valley.
Copper Creek is located in Kleinburg. It is an 18-hole, par 72 championship golf course designed by renowned architect Doug Carrick. The course layout offers a stimulating mix of challenging holes, strategic risk-reward opportunities, and striking elevation changes. It's an exciting test for golfers of all abilities.
One of the signature features of Copper Creek is the panoramic vistas. From the elevated tees, you can feast your eyes on the spectacular countryside landscape. It's golfing in nature's lap!
The club also features an all-grass practice facility and a pro shop stocked with the latest golf gear. Post-game, you can unwind at the exquisite Villa, a 40,000-square-foot complex housing dining rooms, a bistro, and a wrap-around terrace overlooking the breathtaking views.
4. Glen Abbey Golf Club
Glen Abbey is located in Oakville. It has been a prominent name in Canadian golf since its opening in 1976. The legendary Jack Nicklaus designed this facility. This par 72 course has hosted the Canadian Open more than any other. That has earned it a prestigious spot in the heart of golf enthusiasts.
Glen Abbey offers a unique blend of challenging holes, from the demanding 11th hole known as 'The Valley'. Where players tee off a cliff to the Sixteen Mile Creek valley below to the final closing holes that have witnessed some of the most exciting finishes in golfing history.
It also houses the Canadian Golf Hall of Fame and Museum, which will captivate you with intriguing golf artifacts and stories. Complete your golfing day by relaxing in the elegant clubhouse, or dine in style at the delightful on-site restaurant with a side of stunning golf course views.
Things to Do in and Around Golf Courses While on a Limo Tour
A golf limo tour is about more than just the golf – it's an opportunity to enjoy a whole host of activities in and around these amazing courses.
Culinary Adventures: Many golf clubs, like Angus Glen and Copper Creek, house upscale dining options. After a satisfying round of golf, nothing complements the experience better than a gastronomic delight. It's a chance to try out local flavors, high-end steakhouses, or elegant bistro cuisine.
Visit Local Attractions: Golf courses are often nestled near local attractions. For instance, when visiting Glen Abbey, you can extend your tour to explore the charming town of Oakville, with its lovely harbor and vibrant arts community. Similarly, Eagle's Nest's location in Maple puts it close to Canada's Wonderland, the nation's largest theme park.
Wine Tasting: Golf and wine make for a classy pairing. Close to many courses, you'll find some of the region's top vineyards. Plan a wine-tasting session at one of these local wineries to add a touch of refinement to your golfing day.
Exploring Nature: Many golf courses, including Copper Creek, are situated amidst lush greenery. Use the service to enjoy a serene nature walk. The Humber River Trails near Copper Creek offer an excellent spot for a rejuvenating hike.
Museums and Historical Sites: Visit the Canadian Golf Hall of Fame and Museum at Glen Abbey, or explore historic sites near your golf venue to enrich your tour.
FAQs
Is there a company that will drive you to the airport in Toronto?
Absolutely! Top Limo offers airport transportation services in Toronto. You can book a range of vehicles from airport taxis, SUVs, stretch limos, and Sedans, to luxury limousines. Top Limo provides convenient, comfortable, and excellent service to and from the airport.
Can you visit Niagara Falls from Toronto?
Yes, you can. Niagara Falls is about a 90-minute drive from Toronto, making it a popular day-trip destination. Top Limo offers guided trips from Toronto to Niagara Falls, which often include transportation, a visit to the falls, and sometimes a wine tasting or other local attractions. Hire a private limousine service for a more luxurious and personalized experience.
Do limo services provide round-trip transportation to golf courses?
Yes, most Pearson airport limousine services offer round-trip transportation. They can pick you up from your location, take you to the golf course, and then drive you back after your game. Some services also allow for multiple stopovers, enabling you to visit other attractions or dine out during your golfing day.
Hire Flat Rate Limo Rental: Toronto Airport Limo Service in Greater Toronto Area
Top Limo stands ready to transform your golf tours and airport transportation experiences in Toronto. By choosing our luxury limousine airport service, you opt for comfort, style, and punctuality.
Our expertise goes beyond just getting you from point A to B. It's about offering a service that matches the thrill and enjoyment of your golf tour or the ease of your airport transfer. Let us handle the logistics while you focus on your trip.
Start your next golf tour in Toronto or book your airport limos with us. Make the first step towards a memorable travel experience. Call us today to book your Toronto limo. Your perfect journey begins here.