Ever wondered how top executives manage their busy schedules while maintaining a professional image? The answer lies in their choice of transportation. Comfort, and making a lasting impression, nothing beats our Limo Service Toronto. But why do these high-flying individuals opt for limos over other options? Is it just about luxury and style?
Well, not quite. From reliable and efficient transportation to the ability to focus on work while on the move, there are several compelling factors that make limo service the go-to option for these busy professionals.
Benefits of hiring limo service for business trips
Ensuring Punctuality, Minimizing Delays
One of the top reasons why top executives prefer hiring a Limo Service Toronto for their business trips is because it ensures punctuality. With a professional chauffeur behind the wheel, you can minimize the risk of delays or missed flights. No more stressing about getting stuck in traffic or finding parking at the airport. The limo service takes care of all that hassle, allowing you to arrive at your destination on time.
Utilizing Travel Time Efficiently
When you're traveling for business, every minute counts. That's where a limo service comes in handy. With onboard amenities like comfortable seating, Wi-Fi connectivity, and even refreshments, you can utilize your travel time efficiently. Catch up on emails, make important phone calls, or simply relax and prepare for your upcoming meetings. The convenience and comfort provided by a limo allow you to make the most out of your journey.
Experienced Chauffeurs Prioritizing Safety
Safety is paramount. Limo services employ experienced chauffeurs who prioritize safety and customer satisfaction above all else. These professionals are well-trained and knowledgeable about the best routes to take, ensuring a smooth and secure journey for their passengers.
Eliminating the Hassle of Parking and Navigation
Navigating through an unfamiliar city can be daunting, especially when you have important meetings to attend. Hiring a limo eliminates the hassle of parking, traffic congestion, and navigating unknown roads. You can sit back and relax while the chauffeur takes care of all these logistics for you.
Read Also: 6 Qualities to Look for in the Best Limo Service in Canada
Surprising statistics on the quality of limo service Toronto
Customer Satisfaction Rate: 95%
Did you know that a staggering 95% of customers are satisfied with the top-rated limo services in Toronto? That's right, almost every passenger who has experienced the luxury and convenience of a limousine ride in this bustling city has been more than happy with their choice. From the plush interiors to the professional chauffeurs, it's no wonder why so many people prefer to travel in style.
Increased Productivity: Over 80% of Executives
For busy executives, time is money. And every minute counts. That's why over 80% of executives reported increased productivity when using a limo service in Toronto. With a comfortable and quiet environment to work or prepare for meetings, they can make the most out of their travel time and arrive at their destination ready to conquer any challenges that come their way.
On-Time Arrival Rate: 98%
Punctuality is crucial for executives who have tight schedules and important appointments. Fortunately, when relying on Toronto's premier limousine companies, they can expect an impressive on-time arrival rate of 98%. This means that almost every executive traveler reaches their destination promptly without any unnecessary delays or stress.
Enhanced Travel Experience: More than 90% of Executives
Traveling can be exhausting and stressful, especially for high-level executives who are constantly on the go. However, by hiring a limo service in Toronto, more than 90% of executives believe that their overall travel experience is greatly enhanced. From door-to-door service to personalized attention, traveling becomes a breeze when you have a luxurious limousine waiting to take you wherever you need to go.
Top reasons why executives choose limo service over other transport options
Executives have their reasons for opting for a limo service in Toronto instead of other transportation options. Let's explore the top factors that make limousines the preferred choice:
Personalized attention and tailored experiences
Limo services go above and beyond to provide personalized attention and tailored experiences for each executive client. From greeting them by name to accommodating their specific preferences, these services ensure a VIP treatment that makes executives feel valued and important.
Luxury and comfort at its finest
The luxury and comfort offered by a limousine create an exclusive atmosphere for important meetings or events. With plush seating, spacious interiors, and amenities like Wi-Fi, refreshments, and entertainment systems, executives can relax or work in utmost comfort while traveling.
Privacy is paramount
Executives highly value the privacy provided by a chauffeured vehicle compared to public transportation or rideshare services. In a limousine, they can hold confidential conversations without worrying about eavesdroppers or interruptions. This level of privacy allows them to focus on business matters without any distractions.
Consistent professionalism throughout the journey
With dedicated chauffeurs, executives can rely on consistent professionalism throughout their journey. Chauffeurs are trained to be punctual, courteous, knowledgeable about the city's routes, and skilled in providing exceptional customer service. This reliability gives executives peace of mind knowing that they will arrive at their destination promptly and smoothly.
Exclusive luxury vehicle options available in Toronto
In Toronto, executive clients have access to a wide range of exclusive luxury vehicles for their transportation needs. These high-end options cater to the discerning tastes and preferences of top executives who prioritize comfort, style, and convenience.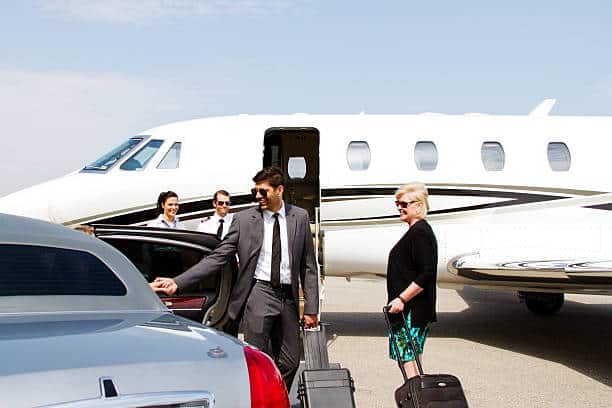 A wide variety of prestigious brands
Toronto's limo service providers offer an impressive selection of luxury vehicles from renowned brands such as Mercedes-Benz, BMW, and Cadillac. Executives can choose from sedans, SUVs, stretch limos, or even luxury vans to suit their specific requirements. Each vehicle is meticulously maintained to ensure a smooth and luxurious ride.
State-of-the-art amenities
One of the key advantages of opting for a limo service in Toronto is the availability of state-of-the-art amenities. These luxury vehicles come equipped with features like Wi-Fi connectivity, entertainment systems, and refreshments. Executives can stay connected during their journey or unwind with their favorite music or movies while enjoying a comfortable ride.
Customization options
Top Limo understands that executives have unique preferences. That's why we offer customization options that allow clients to select the perfect vehicle that matches their style and requirements. Whether it's the choice of interior decor or specific features they desire, executives can personalize their experience to make it truly exceptional.
With such an array of luxury vehicle options available in Toronto, it's no wonder why top executives prefer limo services over other transport alternatives. The combination of prestigious brands, state-of-the-art amenities, and customization opportunities ensures that every journey is tailored to meet their expectations.
Read Also: Limousine Service vs. Taxi: The Right Choice at Toronto Airport
The importance of professionalism and privacy during corporate travel
Executives prioritize confidentiality, and a limo provides a secure environment for sensitive discussions or phone calls.
When corporate travelers are on a business trip or attending important corporate events, privacy and professionalism are of utmost importance. Executives often engage in confidential conversations or make important phone calls that require discretion. Opting for a limo service in Toronto offers them the perfect solution.
Limo chauffeurs undergo rigorous training to maintain the highest level of professionalism and discretion.

They understand the need for privacy and ensure that passengers can have confidential discussions without any concerns.

Whether it's discussing sensitive company matters or having private conversations with clients or guests, executives can trust that their conversations will remain strictly confidential within the confines of a limousine.
With dedicated chauffeurs, executives can trust that their schedules will be followed precisely without any distractions or detours.
Executives have busy schedules and need reliable transportation options to ensure they reach their destinations promptly. Limo services provide dedicated chauffeurs who prioritize punctuality and adhere to predetermined schedules.
Limo chauffeurs are well-trained professionals who understand the importance of following instructions accurately.

They navigate through traffic efficiently, ensuring minimal delays during the journey.

Unlike other transport options where drivers may get distracted with multiple pickups or drop-offs, limos offer an exclusive experience where executives receive undivided attention throughout their journey.
Limo service ensures a polished image for executives by providing well-groomed chauffeurs and immaculate vehicles.
First impressions matter, especially in the corporate world. When executives travel for business purposes, they represent not only themselves but also their companies. It is crucial to maintain a professional image at all times.
Limousines come with well-groomed chauffeurs who exude professionalism from the moment they greet passengers.

The vehicles themselves are meticulously maintained, ensuring cleanliness inside out.

By choosing a limo service, executives can make a strong statement about their commitment to professionalism and attention to detail.
Limo service Toronto – the preferred choice for top executives
Top executives prefer Limo Service Toronto over other transport options. The benefits of hiring a limo for business trips are undeniable. Not only does it provide a luxurious and professional image, but it also offers convenience, reliability, and exceptional customer service. Statistics have shown that the quality of limo service in Toronto is outstanding, with high customer satisfaction rates and impeccable attention to detail.
Executives choose limo service over other transport options for several reasons. Firstly, the exclusive luxury vehicle options available in Toronto allow them to make a statement wherever they go. Whether it's a sleek sedan or a spacious SUV, these vehicles offer both comfort and elegance. Professionalism and privacy are crucial during corporate travel, and limo service ensures that executives can conduct business or relax without any distractions.
In conclusion, if you're a top executive looking for the best way to travel in Toronto, choosing a limo service is an easy decision. With its numerous benefits, exceptional quality, and exclusive vehicle options, it's no wonder why executives prefer this mode of transportation. So why settle for anything less? Book your Limo Service Toronto today and experience the ultimate in luxury travel.
FAQs
Can I book a limo service for airport transfers?
Yes! Limo services in Toronto often provide airport transfer services. You can conveniently book a limousine to pick you up from the airport or drop you off at your desired location.
Are there different types of luxury vehicles available?
Absolutely! Limo services offer various luxury vehicle options to cater to different needs and preferences. From sedans to SUVs and even stretch limousines, you can choose the one that suits your style and requirements.
How far in advance should I book my limo service?
It's recommended to book your limo service as soon as possible to ensure availability, especially during peak travel seasons or for special events. Booking in advance will guarantee that your preferred vehicle is reserved for you.
Can I request additional amenities in the limousine?
Yes, most limo services offer customizable options to enhance your experience. You can request amenities such as Wi-Fi, refreshments, entertainment systems, or any other specific requirements you may have.
What if my travel plans change?
Limo services understand that travel plans can sometimes change unexpectedly. Most reputable companies have flexible cancellation and rescheduling policies to accommodate such situations. It's best to check with the company regarding their specific terms and conditions.