Did you know that transportation can make or break your special event? In fact, studies show that 80% of event attendees consider transportation as a significant factor in their overall experience. That's where Hamilton Limo Service by TopLimo comes in. As the premier limo service in Hamilton, Ontario, we are the trusted provider for all your special events transportation needs. Our fleet of top-of-the-line vehicles with unparalleled luxury and convenience will ensure that you arrive in style and comfort. Whether it's a wedding, prom night, or a corporate gathering, our professional chauffeurs will make your journey unforgettable.
Benefits of using a limo service for special events
Arrive in Style and Make a Lasting Impression
For bachelorette parties or weddings, arriving in style is key. That's where Hamilton Limo Service by TopLimo comes in. With our luxurious fleet of vehicles, you can make a grand entrance and leave a lasting impression on your guests. Whether you choose a sleek limousine or a spacious party bus, you'll be turning heads as soon as you step out.
Enjoy a Stress-Free and Comfortable Ride
No one wants to deal with the hassle of finding parking or navigating through traffic when they're trying to enjoy their special day. By hiring Hamilton Limo Service, you can sit back, relax, and let the professionals take care of everything. Our experienced chauffeurs will handle all the driving while you focus on having a good time. Plus, our vehicles are equipped with plush seating and amenities like entertainment systems and refreshments to ensure your ride is comfortable and enjoyable.
Professional Chauffeurs Ensure Safety and Punctuality
Safety should always be a top priority. With Hamilton Limo Service, you can rest assured that safety is taken seriously. Our professional chauffeurs are trained to prioritize passenger safety and follow all traffic laws diligently. They also have extensive knowledge of the area, ensuring that they will get you to your destination on time without any hiccups.
Unique features and services offered by Hamilton limo service by Toplimo
If you're looking to make your special event truly unforgettable, then our Hamilton limo service is the game-changer you've been searching for. With our wide selection of luxurious vehicles, customizable packages tailored to individual needs, and special amenities like Wi-Fi, entertainment systems, and refreshments, we go above and beyond to provide a top-notch experience.
Wide Selection of Luxurious Vehicles
Hamilton limo service offers an impressive fleet of vehicles to choose from. Whether you prefer a sleek and sophisticated sedan or a spacious and elegant stretch limousine, we have options that cater to every taste. With our well-maintained vehicles featuring plush interiors and modern amenities, you can enjoy a comfortable ride while making a grand entrance at your special event.
Customizable Packages Tailored to Individual Needs
Toplimo understands that every event is unique, which is why we offer customizable packages tailored to fit your specific requirements. Whether you need transportation for a wedding, prom night, corporate event, or any other special occasion, our team will work closely with you to create a package that suits your needs. From the number of hours required to the route preferences and additional services desired, we ensure that every detail is taken care of so that you can focus on enjoying your event.
Special Amenities for an Elevated Experience
To enhance your journey even further, Hamilton limo service provides special amenities that will make your experience truly memorable. Stay connected with complimentary Wi-Fi onboard or indulge in the entertainment systems available for your enjoyment. Sit back and relax as you sip on refreshing beverages from the professional chauffeur. These extra touches add an element of luxury and comfort that sets Hamilton limo service apart from the rest.
Standout qualities of Hamilton limo service by Toplimo
Exceptional customer service that exceeds expectations
Toplimo stands out from the competition with its exceptional customer service. We go above and beyond to ensure that every client's needs are met and their expectations exceeded. From the moment you make your reservation until the end of your journey, our team is dedicated to providing a seamless and memorable experience.
The customer service representatives at Toplimo are friendly, knowledgeable, and always ready to assist you. We take the time to understand your specific requirements and work closely with you to create a customized plan for your special event.

Whether it's a wedding, prom night, or corporate event, Toplimo ensures that every detail is taken care of. We pay attention to even the smallest details, ensuring that everything is perfect for your big day.
Attention to detail for a personalized experience
Toplimo understands that each client has unique preferences and requirements. That's why we prioritize attention to detail in order to provide a truly personalized experience.
Our professional chauffeurs are well-trained and experienced in delivering top-notch service. They not only navigate through traffic smoothly but also add a touch of elegance and professionalism to your journey.

From selecting the right vehicle based on your group size and style preferences to customizing amenities inside the limousine, Toplimo pays attention to every aspect of your experience.
Impeccably maintained fleet for utmost reliability
One of the standout qualities of Hamilton limo service by Toplimo is our impeccably maintained fleet of vehicles. We understand the importance of reliability.
All our vehicles undergo regular maintenance checks and inspections to ensure they are in optimal condition. This ensures that you can rely on them for punctuality and safety.

Our diverse fleet includes a range of luxurious vehicles, from sleek sedans to spacious SUVs and elegant stretch limousines. You can choose the vehicle that best suits your needs and preferences.
Extensive coverage and competitive prices
Serving the entire Hamilton area and beyond
Hamilton limo service by Toplimo is not limited to just the city of Hamilton. We go above and beyond to serve a wider region, ensuring that customers from neighboring areas can also enjoy our luxury transportation services. Whether in Toronto Airport Limo, Burlington limo service, or Niagara Falls limo service, Toplimo has got you covered. No need to worry about finding alternative transportation options or settling for subpar service when attending special events outside of Hamilton.
Affordable rates without compromising on quality or comfort
Toplimo understands that luxury shouldn't come at an exorbitant price. That's why we offer affordable rates for our exceptional limo service. You don't have to break the bank to experience the ultimate care and comfort provided by our professional chauffeurs and luxurious vehicles. With Toplimo, you can enjoy a top-notch experience without emptying your wallet.
Transparent pricing with no hidden fees or surprises
Transparency is key. Toplimo ensures that our customers know exactly what they're paying for upfront. There are no hidden fees or surprises waiting for you when it's time to settle the bill. The pricing structure is straightforward and transparent, giving you peace of mind knowing that there won't be any unexpected costs popping up later.
Testimonials from satisfied customers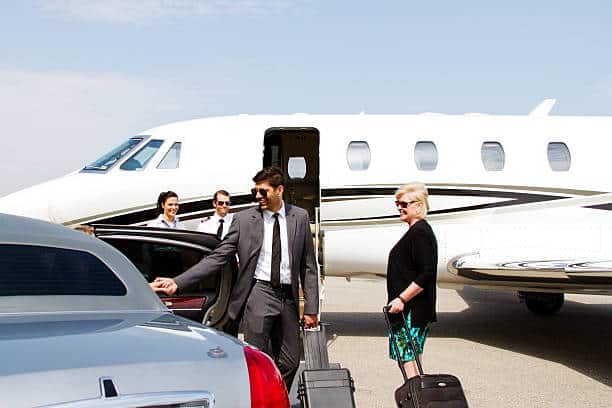 Rave Reviews about the Professionalism of the Chauffeurs
TopLimo's Hamilton limo service has been a game-changer for special events. One of the key factors contributing to this exceptional service is the professionalism of our chauffeurs. Customers have been raving about their experiences and praising the chauffeurs for their top-notch services.
The chauffeurs are highly professional and well-trained, ensuring a smooth and comfortable travel experience.

We go above and beyond to make customers feel valued and cater to their needs throughout the journey.

Customers appreciate how punctual and reliable the chauffeurs are, ensuring they reach their destinations on time.

The chauffeurs also possess excellent driving skills, providing a safe and secure ride for all passengers.
Positive Feedback on the Overall Experience Provided
Another aspect that sets TopLimo's Hamilton limo service apart is the overall experience provided to customers. People have expressed great satisfaction with every aspect of their journey, from booking to drop-off.
Customers appreciate the convenience of booking through TopLimo's user-friendly website or by phone.

The company ensures a seamless experience by confirming bookings promptly and providing all necessary details in advance.

Passengers have praised the luxuriousness and comfort of the limousines, making them feel like VIPs throughout their travels.

The attention to detail in every aspect, including cleanliness, amenities, and personalized touches, has left customers impressed.
Appreciation for Attention to Detail in Every Aspect
TopLimo's dedication to providing exceptional service shines through its attention to detail. Customers have noticed and appreciated these little touches that enhance their overall experience.
From complimentary bottled water to climate control settings tailored to individual preferences, every detail is taken care of.

The company ensures that each vehicle is meticulously maintained both inside and out, creating an inviting ambiance for passengers.

Customers have also praised the knowledgeable and friendly staff who are always ready to assist with any inquiries or requests.
Embrace the game-changing Hamilton limo service by TopLimo
You deserve nothing but the best. That's why Hamilton limo service by TopLimo is a game-changer in the industry. With our exceptional features and services, we go above and beyond to make your experience unforgettable. Picture yourself arriving at your event in style, stepping out of a luxurious limousine that turns heads and leaves a lasting impression. That's the kind of experience you can expect when you choose TopLimo.
But it's not just about the glamour and prestige. TopLimo understands that every detail matters. From our extensive coverage to competitive prices, we have thoughtfully designed our services to meet your needs and exceed your expectations. Our team of professional chauffeurs ensures a smooth ride, allowing you to relax and enjoy every moment of your journey.
So why settle for ordinary transportation when you can embrace the game-changing Hamilton limo service by TopLimo? Don't miss out on this opportunity to elevate your special event experience. Book now and let us take care of all your transportation needs with style, elegance, and utmost professionalism.
FAQs
What types of vehicles does TopLimo offer?
TopLimo offers a wide range of vehicles to suit different preferences and group sizes. From sleek sedans for intimate gatherings to spacious SUVs for larger parties, they have options that cater to all occasions.
How do I book a Hamilton limo service with TopLimo?
Booking with TopLimo is quick and easy! Simply visit their website or give them a call to discuss your requirements with their friendly customer service team. They will guide you through the process and ensure that everything is arranged according to your needs.
Can I customize my limo experience?
Absolutely! TopLimo understands that each event is unique, so they offer customization options to make your experience truly personalized. Whether you want specific decorations, refreshments, or any other special requests, they will work with you to create a memorable journey.
Are the chauffeurs professional and experienced?
Yes, TopLimo takes pride in their team of professional chauffeurs who are not only skilled drivers but also trained in providing exceptional customer service. They prioritize your safety and comfort throughout the entire journey.
What areas does TopLimo cover?
TopLimo provides services in Hamilton and the surrounding areas. Whether you need transportation within the city or for an event outside of Hamilton, they have you covered. Contact them to inquire about their coverage for your specific location.