Get ready to embark on an extraordinary journey as you prepare for a Niagara Falls tour Canada like no other. Step into the world of opulence and luxury with our top-of-the-line limousine service. From the moment you step inside, you'll be treated like royalty, enjoying personalized service and exclusive access to prime viewing spots.
As you cruise along, be captivated by the mesmerizing sights and sounds of one of the world's most famous natural wonders. Immerse yourself in the awe-inspiring power and majesty of Niagara Falls on this unforgettable limo tour.
Tips for Planning the Perfect Niagara Falls Limo Tour
To ensure an unforgettable experience on your Niagara Falls tour, it's essential to plan ahead and make the right choices. Here are some tips to help you prepare for a fantastic journey in a limo:
Research Different Limo Tour Companies
Start by researching different limo tour companies in the area. Look for ones that offer tailored experiences and have excellent customer reviews. This will give you an idea of their reputation and the quality of service they provide.
Consider Your Budget, Group Size, and Desired Itinerary
When selecting a limo package, consider your budget, group size, and desired itinerary. Determine how much you're willing to spend and what activities or attractions you want to include in your tour. This will help narrow down your options and find a package that suits your needs.
Book Your Tour in Advance
Niagara Falls is a popular tourist destination, especially during peak seasons. To secure availability and avoid disappointment, it's advisable to book your limo tour in advance. This way, you can lock in your preferred date and time slot.
Communicate Your Preferences and Special Requests
To ensure a customized experience that meets your expectations, communicate any specific preferences or special requests to the limo tour company. Whether it's a particular route or stops along the way, let them know what would make your tour memorable.
Planning ahead is key when preparing for a Niagara Falls limo tour. Research different companies, consider your budget and itinerary, book in advance, and communicate any preferences or special requests for an unforgettable experience.
Read Also: Why You Must Go for Niagara Falls Tour on a Luxury Limousine
Customizing Your Niagara Falls Limo Experience
Personalize Your Itinerary
When planning your Niagara Falls limo tour, it's essential to work closely with your chosen limo tour provider. By doing so, you can create a personalized itinerary that includes all the must-see attractions and hidden gems. Discuss your preferences and interests with them, and they'll help you craft an experience tailored just for you. Whether you want to visit the iconic falls or explore lesser-known spots, they'll ensure your itinerary matches your desires.
Enhance Your Experience with Additional Amenities
To make your Niagara Falls limo tour even more special, consider adding extra amenities to your package. Choose options like champagne, snacks, or professional photography services to elevate your experience. Sipping bubbly while marveling at the breathtaking views or capturing picture-perfect moments can truly make your trip unforgettable.
Incorporate Specific Interests and Themes
If you have specific interests or themes in mind for your Niagara Falls adventure, don't hesitate to share them with your limo tour provider. Whether you're into wine tasting or are fascinated by historical landmarks, they can incorporate these elements into your tour. Imagine savoring local wines at renowned wineries or exploring the rich history of the area through guided tours—your customized experience will be one-of-a-kind.
Enjoy Flexibility Along the Way
One of the perks of choosing a luxury limousine service is the flexibility it offers during your journey. While on your Niagara Falls tour, feel free to request stops along the way to explore other attractions or take scenic detours. Your chauffeur will be happy to accommodate these requests and ensure that you have ample time to enjoy each destination.
Customizing a Niagara Falls limo tour allows you to design a travel experience that perfectly suits your preferences and interests. With personalized itineraries, additional amenities, themed experiences, and flexible scheduling options—your journey will be truly unique and unforgettable.
Preparing for a Niagara Falls Tour in Canada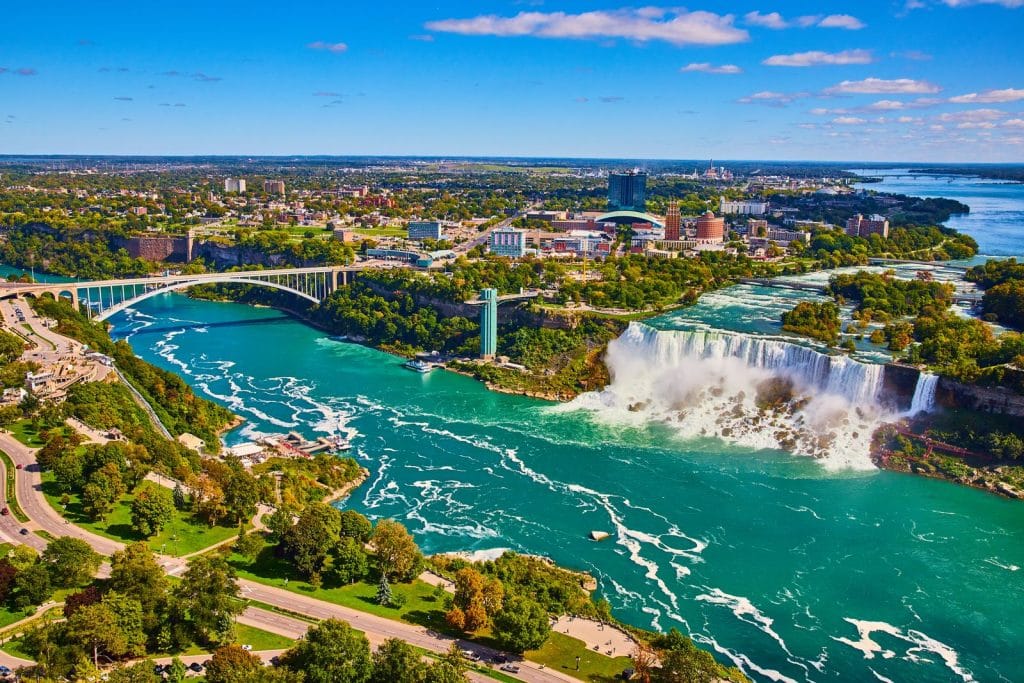 Valid Passports and Crossing the Border
Before embarking on your Niagara Falls tour in Canada on a limo, ensure that you have valid passports if you plan to cross from the United States. Having your passport ready will save you from any last-minute hassle or disappointment at the border.
Dressing Appropriately for Changing Weather Conditions
Weather conditions near the falls can vary throughout the day, so it's important to pack appropriate clothing layers. Be prepared for both sunny and rainy weather by bringing a light jacket or raincoat. This way, you can comfortably enjoy your tour without worrying about getting wet or feeling too cold.
Familiarizing Yourself with Canadian Currency
If you plan on making purchases during your visit to Niagara Falls, it's helpful to familiarize yourself with Canadian currency and exchange rates. This will make transactions smoother and prevent any confusion when paying for souvenirs or meals. You can check online resources or use currency conversion apps to stay updated on exchange rates.
Researching Parking Options
If you're driving yourself to meet up with your limo tour, take some time to research parking options near departure points. Planning ahead will help you find convenient and secure parking spaces without wasting time searching for spots on the day of your tour.
Remember, TripAdvisor is a great resource for finding information about parking facilities near popular tourist destinations. Check out reviews and ratings to ensure that you choose a reliable option.
Safety First!
Lastly, prioritize safety during your Niagara Falls tour. Follow all safety guidelines provided by your limo tour operator and pay attention to any warnings or instructions at viewing areas near the falls. Enjoy the breathtaking beauty of Niagara Falls while keeping yourself and others safe.
All-Inclusive Niagara Falls Tour Canada Options
If you're planning a trip to Niagara Falls in Canada, you might also want to consider exploring the Canadian side of the falls. There are plenty of all-inclusive tour options available like the Top Limo Niagara Falls Tour that can make your experience hassle-free and memorable. Let's take a look at some of the top choices:
Take advantage of all-inclusive packages
Opting for an all-inclusive package is a great idea. These packages typically include transportation, meals, guided tours, and attraction tickets. By choosing an all-inclusive option, you can save time and money while enjoying a seamless experience.
Explore popular attractions on the American side
While most people think about visiting the Canadian side of Niagara Falls, don't overlook the stunning attractions on the American side. From Cave of the Winds to Maid of the Mist boat tour, there's plenty to see and do. These attractions offer breathtaking views and allow you to get up close and personal with the falls.
Enjoy hassle-free travel with knowledgeable guides
One of the advantages of booking an all-inclusive tour is having a knowledgeable guide by your side. These guides can provide insights and commentary throughout your journey, enhancing your understanding and appreciation of Niagara Falls. They can also help you navigate through different attractions and ensure that you make the most out of your visit.
Opt for a private limo tour
For those who prefer more control over their itinerary and pace, a private limo tour is an excellent choice. With this option, you can customize your trip according to your preferences. Whether it's spending more time at specific attractions or adding stops along the way, a private limo tour allows for flexibility and personalization.
Read Also: A Guided Wine Tour of Niagara on the Lake on a Limo – TopLimo
Private Custom Niagara Falls Canada Scenery Tour
If you're looking to experience the natural beauty of Niagara Falls from the Canadian side in style, then a private limo tour is the way to go. With a Niagara custom tour, you can marvel at panoramic views of this magnificent wonder while enjoying the luxurious comfort of a limousine.
Discover the natural beauty
On this private tour, you'll have the opportunity to discover the awe-inspiring natural wonders that Niagara Falls has to offer. From vantage points like Table Rock or Journey Behind the Falls, you can witness breathtaking views of the cascading waterfalls and feel their raw power up close.
Customize your experience
One of the best things about a private limo tour is that you have the freedom to customize your experience according to your preferences. In addition to visiting Niagara Falls, you can add stops at nearby wineries for some wine tasting, explore beautiful botanical gardens, or delve into local history by visiting historic sites.
Personalized attention and flexibility
With a private tour, you'll benefit from personalized attention and flexibility throughout your journey. Your knowledgeable guide will be there to cater to your needs and provide insightful commentary about the attractions along the way. You'll also have more time and flexibility in exploring lesser-known spots off the beaten path that are often missed on standard group tours.
By opting for a private custom tour on a limo, you not only get an exclusive and comfortable experience but also gain access to hidden gems and unique perspectives of Niagara Falls. So why settle for the ordinary when you can make your visit extraordinary?
How to Make the Most of Your Niagara Falls Limo Tour
Congratulations! You are now well-equipped with all the essential information to plan an unforgettable Niagara Falls limo tour. By following these tips and customizing your experience, you'll create memories that will last a lifetime. Imagine yourself cruising along in a luxurious limo, marveling at the breathtaking scenery of Niagara Falls, and enjoying a personalized tour tailored to your preferences.
To make the most of your Niagara Falls tour Canada, don't forget to book a limo in advance and communicate your preferences to the limo service. Take advantage of their expertise and ask for recommendations on must-see attractions or hidden gems. Remember, this is your chance to indulge in luxury while immersing yourself in nature's wonder.
So what are you waiting for? Start planning your dream Niagara Falls limo tour today and get ready for an adventure like no other!
FAQs about Niagara Falls Limo Tours
Can I bring my food and drinks in the limo?
Yes, most limo services allow you to bring your food and drinks onboard. However, it's always best to check with the specific limo service beforehand as some may have certain restrictions or additional charges.
Are there any age restrictions for children on a Niagara Falls limo tour?
While there are generally no age restrictions for children on a Niagara Falls limo tour, it's advisable to check with the chosen limo service beforehand. They can guide child safety seats or any specific regulations they may have.
Can I request additional stops during the tour?
Absolutely! Many limo services offer customizable tours where you can request additional stops along the way. Whether it's visiting local wineries or exploring nearby attractions, don't hesitate to discuss your preferences with the limo service when making arrangements.
Is gratuity included in the price of a Niagara Falls limo tour?
Gratuity is typically not included in the price of a Niagara Falls limo tour. It's customary to tip your driver based on their service, usually around 15-20% of the total cost. However, it's always good to confirm with the limo service if they have any specific tipping guidelines.
Can I book a Niagara Falls limo tour for a large group?
Yes, many limo services offer options for large groups. Whether you're planning a family reunion or corporate outing, you can often find limos that accommodate varying group sizes. Contact your chosen limo service to discuss your specific requirements and they will guide you through the available options.