Experience the grandeur of Niagara Falls like never before with a luxury Niagara Fall Tour with Top Limo. This custom tour offers the ultimate VIP treatment, allowing you to indulge in the breathtaking beauty of one of the world's most iconic natural wonders while enjoying the utmost comfort and style.
Whether you're planning a business excursion or simply seeking an unforgettable journey filled with adventure, a luxury limousine tour is the perfect choice. Immerse yourself in the awe-inspiring sights and sounds as you explore this magnificent destination, creating memories that will last a lifetime. Don't settle for an ordinary visit to Niagara Falls; elevate your experience with a luxurious limousine tour.
Enhancing your Niagara Falls tour with a top limo service
Elevate your Niagara Falls experience
Experience the awe-inspiring beauty of Niagara Falls in style and luxury by opting for a top-notch limousine service. By choosing a toniagara custom tour on a luxury limousine, you can take your visit to the next level and create memories that will last a lifetime.
Enjoy personalized attention and exceptional service
When you go for a Niagara Falls tour on a luxury limousine, you can expect nothing short of VIP treatment. From the moment you step into the sleek and elegant vehicle, you'll be greeted with personalized attention from professional chauffeurs who are dedicated to providing exceptional service. They will ensure that every detail of your trip is taken care of, allowing you to relax and fully immerse yourself in the wonders of Niagara Falls.
Let a professional chauffeur handle all logistics
One of the biggest advantages of going on a Niagara Falls tour with a top limo service is that you don't have to worry about any logistics. Your chauffeur will handle everything from picking you up at your desired location to navigating through traffic and finding the best spots for breathtaking views. This leaves you free to enjoy every moment without any stress or hassle.
Create unforgettable memories with friends
A luxury limousine tour is not just about enhancing your own experience but also about creating unforgettable memories with friends. Gather your closest pals and embark on this adventure together, enjoying the comfort and elegance of a top limo service while marveling at nature's grand spectacle.
By choosing to go for a Niagara Falls tour on a luxury limousine, you're not just visiting one of the world's most famous natural wonders – you're elevating it into an extraordinary experience filled with comfort, style, and personalized attention.
Read Also: How Top Limo Service Enhances Your Niagara Falls Experience
Winter wine tours in Niagara-on-the-Lake and the Festival of Lights
Winter in Niagara-on-the-Lake is a magical time, and what better way to experience its charm than by embarking on a luxury limousine wine tour? Picture yourself cruising through picturesque vineyards, savoring exquisite wines, and enjoying the cozy ambiance of renowned wineries. With a custom wine tour, you can make the most of your visit to Niagara Falls by indulging in this unique winter experience.
Discover the Charm of Winter in Niagara-on-the-Lake
Niagara-on-the-Lake is renowned for its world-class wineries, and during the winter season, it takes on an enchanting appeal. As you hop aboard a luxurious limo, you'll be transported to various wineries where you can sample an array of delicious wines. From bold reds to crisp whites and everything in between, there's something to delight every palate. Take your time exploring each winery's offerings while basking in the warmth and comfort of your private limousine.
Immerse Yourself in the Enchanting Festival of Lights
As darkness falls over Niagara Falls, another mesmerizing spectacle awaits – the Festival of Lights. Hop into your luxury limo and embark on a journey through dazzling displays that illuminate the night sky. The Festival of Lights showcases stunning light installations that transform parks, gardens, and buildings into a magical wonderland. Marvel at larger-than-life illuminated figures and immerse yourself in the festive atmosphere as you cruise through this captivating display.
Combine Two Incredible Experiences
By opting for a winter wine tour on a luxury limousine, you have the opportunity to combine two incredible experiences – wine tasting and festive lights – all in one unforgettable day. Indulge your taste buds with exceptional wines while immersing yourself in the beauty of Niagara-on-the-Lake's winter landscape. Then marvel at the breathtaking light displays of the Festival of Lights as you travel in style aboard your private limo. It's a winter tour like no other, offering a perfect blend of indulgence and enchantment.
Exploring different types of luxury limousines for hire
Nothing beats a luxurious limousine. Whether you're traveling with a small group or a large party, there's a perfect vehicle to cater to your preferences and needs.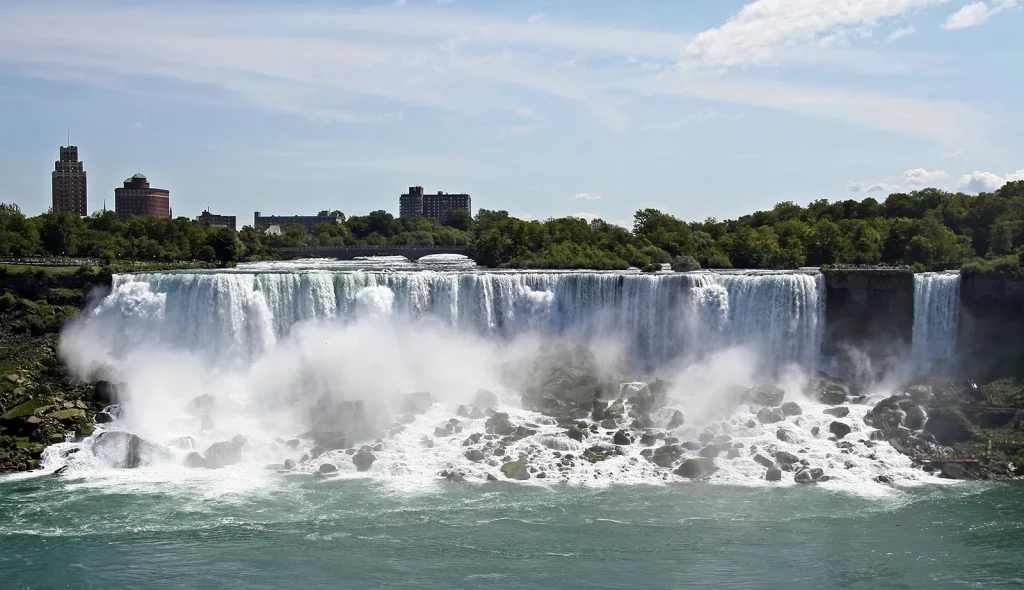 Let's explore the different types of luxury limousines available for hire:
Classic Stretch Limos
These iconic vehicles are synonymous with luxury transportation. With their sleek and elongated design, classic stretch limos exude elegance and sophistication. They offer ample space for passengers to relax and enjoy the ride while indulging in the breathtaking views of Niagara Falls.
Sleek SUVs
If you prefer a more modern and stylish option, consider hiring a sleek SUV for your Niagara Falls adventure. These vehicles combine comfort, versatility, and luxury seamlessly. With their spacious interiors and advanced features, SUVs provide an elevated level of convenience during your trip.
Premium Sedans
For individuals or smaller groups looking for a touch of luxury without compromising on comfort, premium sedans are an excellent choice. These stylish vehicles offer plush seating, top-notch amenities, and a smooth ride to enhance your overall experience.
Party Buses
If you're planning a special celebration or traveling with a large group, renting a party bus can take your experience to the next level. These spacious vehicles come equipped with entertainment systems, dance floors, and even mini-bars—perfect for keeping the party going while marveling at the beauty of Niagara Falls.
No matter which type of luxury limousine you choose, one thing is certain: you'll be traveling in utmost comfort and style as you explore all that Niagara Falls has to offer.
Convenient planning and ease of transportation for your Niagara Falls tour
Planning a trip to Niagara Falls can be a hassle, but with our luxury limousine service, you can leave all the planning hassles behind. Our expert team takes care of every detail, ensuring a seamless and stress-free trip for you.
When you book a Niagara Falls tour with us, convenience is guaranteed from start to finish. We provide door-to-door transportation, meaning you won't have to worry about parking or finding your way around. Simply hop into the luxurious limousine and enjoy the ride!
One of the biggest advantages of choosing our professional service is that we maximize your time at each attraction. Our efficient transportation arrangements ensure that you spend less time on logistics and more time having fun at the various attractions and places in Niagara Falls.
To make things even easier for you, we offer online booking options. You can simply fill out an online form to reserve your spot on the tour. No need to worry about making phone calls or waiting in line – just a few clicks and you're all set!
Whether you're traveling solo, with a group of friends, or with your family, our luxury limousines are spacious enough to accommodate everyone comfortably. So gather your loved ones and embark on an unforgettable Niagara Falls adventure together.
The excellence of Top Limo: Professional service at its best
Experience the Highest Level of Professionalism and Customer Service with Top Limo
Top Limo stands out as a top choice. Our airport limo service is renowned for its exceptional service, elegance, and punctuality. We take great pride in providing our customers with professional chauffeurs who are dedicated to ensuring a safe and enjoyable journey.
With Top Limo, you can trust that your Niagara Falls tour will be a memorable experience from start to finish. Our experienced chauffeurs have extensive knowledge of the area and can provide insider tips and recommendations to enhance your trip. Whether you're interested in the best viewpoints or hidden gems around Niagara Falls, our chauffeurs have got you covered.
Read Also: Why Limo Service Niagara is the Best Way for Wine Tours – Toplimo
Trust in Our Experienced Chauffeurs for a Safe and Enjoyable Journey
Safety is our utmost priority at Top Limo. Our chauffeurs undergo rigorous training and possess the necessary skills to navigate through any situation on the road. You can rest assured knowing that you are in capable hands during your tour.
In addition to their expertise behind the wheel, our chauffeurs also prioritize customer satisfaction. They go above and beyond to ensure that all your needs are met throughout the journey. From assisting with luggage to offering personalized recommendations, our professional chauffeurs are committed to providing an exceptional level of service.
Benefit from Our Extensive Knowledge of Niagara Falls
Choosing Top Limo for your Niagara Falls tour means gaining access to valuable insights about this iconic destination. Our chauffeurs are well-versed in the history, attractions, and local culture surrounding Niagara Falls. They can guide you towards must-see sights while avoiding tourist traps.
Moreover, our extensive knowledge extends beyond just the falls themselves. We can recommend nearby restaurants, activities, and accommodations that suit your preferences. With Top Limo as your trusted transportation provider, you can make the most of your time in Niagara Falls.
Elevating your Niagara Falls experience with a luxury limousine
Congratulations! You've discovered the secret to taking your Niagara Falls tour to the next level – a luxury limousine. By choosing this opulent mode of transportation, you'll not only arrive in style but also enhance every aspect of your journey. Imagine cruising along the scenic Niagara Parkway, feeling like a VIP as you soak in breathtaking views and create unforgettable memories.
With a luxury limousine, your Niagara Falls adventure becomes an extraordinary experience. Whether you're visiting during the winter wine tours in Niagara-on-the-Lake or witnessing the enchanting Festival of Lights, traveling in a top-notch limo adds an extra touch of elegance. It's like having your own personal chauffeur guiding you through the wonders of this natural marvel.
So why wait? Don't miss out on this incredible opportunity to elevate your trip. Book a luxury limousine for your Niagara Falls tour today and embark on an unforgettable journey that combines comfort, convenience, and sheer luxury.
FAQs
Can I choose the type of luxury limousine for my tour?
Absolutely! When booking your Niagara Falls tour with a luxury limousine service, you can select from various types of vehicles based on your preferences and group size. From sleek sedans to spacious SUVs or even stretch limos, there's something for everyone.
How do I book a luxury limousine for my Niagara Falls tour?
Booking is simple! Just reach out to our trusted partner, Top Limo, and their professional team will assist you in arranging the perfect luxurious ride for your Niagara Falls adventure. They offer convenient online booking options as well as personalized customer service.
Is it worth investing in a luxury limousine for my trip?
Absolutely! A luxury limousine not only enhances your overall experience but also provides added comfort and convenience during your journey. Plus, it allows you to avoid the hassle of parking and navigating through unfamiliar roads, ensuring a stress-free and enjoyable tour.
Can I bring my own food and drinks on board the luxury limousine?
Most luxury limousine services allow you to bring your own food and drinks on board. However, it's always best to check with the service provider beforehand to ensure any specific restrictions or guidelines.
Are there any additional benefits of hiring a luxury limousine for my Niagara Falls tour?
Certainly! In addition to comfort and style, hiring a luxury limousine offers several perks such as professional chauffeurs who are knowledgeable about the area, flexibility in itinerary planning, and the opportunity to indulge in a truly VIP experience throughout your trip.